'Lucifer' EPs on How the Finale May Not Be the End — and Neil Gaiman as God?
Yup, that sound you just heard was millions of Lucifer fans screaming "Noooooo!"
For the last few days, Lucifans have been vocalizing their upset with Fox's boneheaded decision to cancel the Vertigo Comics-inspired romp after three seasons. And now, as the season wrapped with tonight's episode — which closed with Chloe (Lauren German) finally seeing the literally devilish side of Lucifer (Tom Ellis) — they're surely losing their minds that they may never see what comes next.
TV Insider chatted with executive producer Ildy Modrovich and showrunner Joe Henderson earlier today, and while much of the discussion was about the online outrage and how supportive the fans have been, the show's potential future and what they had planned for Season 4 obviously came up. So buckle yourselves in, because some of this stuff is epic.
Ugh, this is awful. What did you think when you got the call that it wasn't coming back?
Joe Henderson: Honestly, it was like the wind got sucked out of me. As much as I knew we were on the bubble, I didn't for a million years actually think we wouldn't come back in some way. Even if it was a reduced order or something, I just felt like we were going to be able to finish our story. Partially because we're ending on this crazy awesome cliffhanger, which promises so much future story. And because we had this pitch at Fox that they just went crazy over and loved… so it was gutting. And then it was like whiplash when the fan reaction just went ape s**t. It was amazing.
How have you been holding up?
Ildy Modrovich: I'm OK. I mean, honestly, I think Tom [Ellis] tweeted this recently but I was so sad, and then this whole crazy outpouring has made me kind of [stunned]. I just don't think I had any idea of the [fans'] love. I've been really overwhelmed with gratitude. I had no idea people cared this much.
Henderson: It's been nuts. And they have been amazing. The fans have just basically taken it as their mission to keep getting word out and it's incredible.
Obviously every show in the world would kill to have some kind of reaction like this.
Modrovich: That is so true and, you know what? The people, that cast, they deserve it. And Tom at the helm? He's all heart, that man. They all have poured their heart and soul into it. We all have, the crew, the production staff, everybody who works on the show. I've been on many shows and everybody really has joy over working on this show.
Having worked with so many of you, it's clearly a family. And the excitement they show, still, three seasons in… that kind of set and environment is a rarity.
Henderson: It's a mix of you want to cry and you want to cheer. It's like, everyone's so excited and thrilled about the fans and then, everyone's so devastated because we love working together. I mean, you know this cast. We are a family. We adore going to work, which such is a rare thing to be able to have. So right now, everyone's holding on to hope that maybe there's something we can do.
Modrovich: I guess that's why we're fighting. If nothing else, it's incredibly heartening to know that we touched some people. We make this for them.
Before the cancellation, you mapped out the end of the season.
Henderson: Yeah, it was crafted back when we were still looking pretty good and so we decided to take a really big swing and, as you see, change a major element of the show that would give us an entirely new story to tell in Season 4.
The decision to reveal Lucifer's true face to Chloe, how did that come about?
Modrovich: Oh, there was so much discussion! 'Are we gonna break the show?' was the main question, and we were pretty split in the room. You know both Joe and I felt really strongly that it was time. Not just for Lucifer to own who he is — I mean, in the previous episode he tells her and does everything but show her. He was really at the precipice of owning who he is and not being ashamed of it. The great thing that Joe did in the finale was to bring back that shame, that he feels he's a monster. In real life, we don't learn something and then never go backwards. We don't evolve and then we are complete.
Nor are we just one thing.
Modrovich: He's both devil and angel. He really is, and we are all that. It also really felt time for Chloe to find out, because we could not in good faith, make this smart woman roll her eyes at him one more time. [Laughs] She is an incredibly great detective and she is a smart woman. She had to see. She had to understand and that's also why, in the course of the episode, she starts to figure it out before she sees it. She's starting to accept it herself, so  it's not just because she finally sees the face. She's a person of logic, she listens to the facts and starts to kind of go, 'Could this be true?' She starts to have faith before she sees proof.
Henderson: We started the season with this moment where Lucifer wanted to show Chloe his Devil face and then his Devil face went away! So we really wanted to end the season with him actually not thinking he was the Devil anymore and then doing something that, to a certain extent, brought the Devil face back [and] made him realize, deep down, that is who he is. Or, at least, made him think that. In the beginning of the season, he was coming from a position of strength, 'I want to show her who I really am.' And now, he's showing her at the worst possible moment, one that he doesn't control, one that he's unprepared for, that even he didn't realize that's how he saw himself.
And that's the heartbreaking part of that final moment, where he doesn't realize what he's showing her.
Henderson: Yes, exactly. It's the worst possible way for her to find out, which, to me, is the best story to tell.
What would be next for Chloe?
Modrovich: Hopefully, in Season 4, we have a journey for her like anyone. She wouldn't just accept it right away. She's going to go through all the emotions that we've been through, the audience. For her to be able to see his struggle, every single side of him, and she is going to feel a little bit like what he says in the penultimate episode, which is 'I feel like you've seen one side of me.'
Henderson: And, to me, I really looked at this like the end of an era. Sort of, the first three seasons were Lucifer and Chloe coming to understand each other, coming to trust each other. And then, this is just the beginning of a whole new story, which is Chloe in-the-know and, at the same time, finding out about Amenadiel (D.B. Woodside), finding out about Maze (Lesley-Ann Brandt)…
All the dimes have to drop at that point where she has to start realizing that it's not just him who is a celestial being.
Henderson: She's roommates with a demon. Literally, a demon! Yeah, all of those things were the toys that we want to play with and start unspooling over the season and let Chloe deal with. Whether or not she still chooses to work with someone like Lucifer and to love someone like Lucifer, now knowing what he truly is.
The scene that you give us with Maze and Linda (Rachael Harris) wiped me out.
Modrovich: Me too!
Henderson: Oh, they killed it. And honestly, one of the things we discovered in Season 2, which we didn't expect, was how powerful the friendship between Linda and Maze would be. And so, a lot of Season 3 was tearing that friendship apart because the love triangle, to me, was never really about Amenadiel, Linda and Maze, it was about Linda and Maze and their friendship. And so, that scene to me is partially so heartfelt because that is, in part, both of their stories for the season and for the series so far.
What else did you have planned?
Henderson: We have two stand-alones that were supposed to air next season. And actually, what I'd love to give you, if you're interested in, is a big scoop on one of them that we were saving for Comic-Con.
Yes please!
Henderson: So we cast God….we cast Neil Gaiman.
Shut up!
Henderson: [Laughs] Yes, Neil Gaiman plays God in the last episode we shot. Now, God only exists in our world so far as a voice-over. So one of our last episodes is a fairy tale narrated by God. And if you're gonna cast God, the real God, it makes sense to cast the guy who created Lucifer.
That episode is just sitting on the shelf. They might air it, at some point. It's the episode that Kevin Alejandro [who plays Dan] directed. It is beautiful. It's a fairy tale that's narrated by God himself. And it's awesome. It's such a shame. Not only is the finale, I think, one of our best episodes, but we've got these two standalones that are awesome. One is with Ella (Aimee Garcia) and Charlene Yi, playing Ella's old friend who may or may not be a ghost. It's really good and fun, and you start to understand how Ella fits into our whole world logically.
Well listen, I have every faith that there is more life in this. You see what's happening online. I know that something is going to happen.
Henderson: Honestly, we just want a home that will take care of the show we love and let us tell more stories, so I'm not picky! [Laughs] I think our show is awesome, I think our show will bring an audience. I'm just waiting to see who comes calling and who's interested.
Modrovich: I feel like it's  strangely appropriate… we've been the underdog from the beginning and it almost makes poetic sense that we are constantly sort of fighting for our redemption. [Laughs]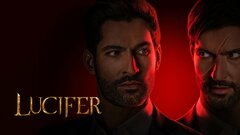 Lucifer
where to stream
Powered by