'Lucifer' Star Tom Ellis 'Not Giving Up' on Season 4 Renewal, Cheers on Fans
Consider Lucifer officially chuffed.
"I was not great, but I can't tell you how I much have been buoyed by this whole response, it's been incredible," admits Tom Ellis of the fallout around the unexpected cancellation of his Fox dramedy. After the axe fell Friday evening — "I was genuinely shocked when I found out," he offers — the internet did what it does best and got outraged. Loudly.
Before you could say "But they saved Last Man Standing?!" the hashtags #SaveLucifer and #PickupLucifer were trending worldwide for days and the cast was deluged with support.
"We knew we had a popular show, something people really adored, but not this much," continues the actor, who's known for being wildly more humble and affable than the hedonist he's played with sexy delight for three seasons (exec producer Ildy Modrovich calls him "all heart"). "I never felt like the numbers on Fox ever really reflected the actual popularity of the show. And that is just modern TV: People find the way to watch a program the way they want to watch it and this outpouring has suggested exactly that."
Noting that "talks are happening" about possible new homes for the show, Ellis stresses that "it's not going to be an  instantaneous thing like Brooklyn Nine-Nine was. It's worth reiterating that to the fans. But we're not giving up. If anything this has really galvanized us and picked us up from the floor."
Tonight's season (or possibly series) finale culminates in a poignant cliffhanger sure "to start another torrent of disbelief." Ellis says he's nothing but grateful for his gig as God's fallen son and, even more so, for the viewers who have stepped up. "I was sitting in my flat in London a broken man on Friday, I'm not gonna lie. Then when this stuff started happening, it just honestly infused me with appreciation, really. I am overwhelmed by it."
So don't give up, Lucifans. In fact, one might suggest that you all keep the faith — Ellis sure is. "All we hope when we make the show is that we reach people and it's very apparent that we have done so," he says with pride. "I sincerely hope we can find a new place so we can keep reaching them."
Lucifer, Season Finale, Monday, May 14, 8/7c, Fox
And check back with TV Insider after the show for a follow-up with executive producers Joe Henderson and Ildy Modrovich!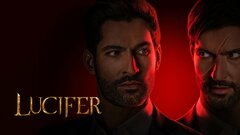 Lucifer
where to stream
Powered by