'Sweetbitter' Star Caitlin FitzGerald: 'I Was Tess' at 22 (VIDEO)
Sweetbitter fans know that Caitlin FitzGerald is the perfect bite of salt and sophistication as star server Simone. The Maine-born thirtysomething, last seen in Lifetime's UnREAL, knows well the series' fast-paced restaurant world—but the character with whom she most identifies is not the one you'd think.
"I got sent the book by my manager last fall and she said 'They're making this into a TV show, and I think you're really right for one of the characters,'" FitzGerald says. "I read it and I was Tess. In 2006, I was 22, in New York City having just graduated college, and waiting tables—trying to make my dreams happen. Reading the book felt like this surreal experience of reading my diary from that time."
See Also
The Starz series is produced by Brad Pitt's Plan B Entertainment.
FitzGerald was cast as Simone, a beautiful, composed blonde with perfect serving skills, a perfect palate and a conditional affection for restaurant newbie Tess (Ella Purnell). Plus, a few closely-kept secrets.
In the May 27 episode, titled "Simone's," Tess uses a rare day off to wander over to her mentor's shabby chic apartment, hoping to borrow Simone's wine books, get a peek into the guarded woman's world outside the restaurant and maybe absorb a bit of cool by osmosis.
Check out an exclusive clip from the new episode here:
Placing the duo in the intimate setting allows insecurities and ambitions to bubble to the surface, shading and coloring both ladies beyond the bluster and show of their workplace.
That's something FitzGerald relishes.
"What drew me to this project, beyond it feeling like a very familiar story, was this relationship between these two women," she says.
"I certainly have had a few women in my life who were older and seemed models of perfection and femininity—who knew everything about wine and literature and art—and those relationships were never one thing. They were mentor-mentee and those women did sometimes feel like my fairy godmothers, but sometimes also like they were jealous of me or that there was a competition there.
"Depicting female relationships that aren't readily quantifiable feels so important to me, and this really feels like one of those."
FitzGerald appreciates that Sweetbitter's mid-2000's timeframe harkens back to a time when life didn't have to be Instagram perfect, and youthful fumbles and indiscretions lived on only as fond or embarrassing memories and perhaps a lesson learned.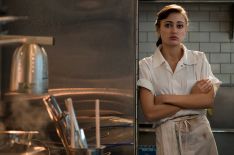 See Also
Plus, check out an exclusive clip from Sunday night's all-new episode.
"Coming of age in New York City in 2006, even though you're in a major metropolis, your mistakes were private in a way," she recalls. "Now, with social media, we broadcast everything and construct our lives in this incredibly public sphere all the time. We can't have an experience without thinking about how we're going to Instagram it.
"In 2006, everything felt a lot more immediate and we could fail and try and make mistakes in a way that was weirdly protected," she continues. "It felt like we could explore in a different way back then. I'm very scared for this generation coming up, and girls in particular. Social media is a terrifying arena, in many ways."
To play the wine-wise Simone, FitzGerald leaped at the opportunity to refine her palate, particularly in matters of the grape. She bought Karen MacNeil's iconic Wine Bible and immersed herself in its pages, savoring both the education and memorable descriptors such as "a sword wrapped in whipped cream" to define fine champagne—a characterization she ad-libbed into "Simone's."
"I was toting [the book] around with me while we were shooting," she chuckles. "I got the job about five days before we started to shoot, and I tried to do as deep a dive as I could into the world of wine and ended up enjoying it so much.
"Stephanie was kind enough to take me to a wine bar for research, take me though many kinds of wine. … I always knew that knowing about wine was complicated, but I didn't realize that it's just a whole other world. You can go forever learning about wine. I love that."
And she loves the opportunity to show viewers that restaurant work done well isn't just grunt work or a between-jobs job, but a carefully orchestrated and rehearsed dance of timing, skill and showmanship that's worthy of respect, if not outright awe.
"Having worked in restaurants, I have always had a lot more empathy and care for the people who serve me," FitzGerald says. "I've always said that everyone in their life should, at some point, work in a restaurant, because it really teaches you how to work. …
"My character in particular really believes in the nobility of this work and has elevated it to an art form, which it really is. When you have a beautiful meal at a restaurant that really cares about every detail, it's a theater piece. It's a comprehensive experience."
As the show's fans wait for news of a second season with the first halfway over, FitzGerald appreciates that viewers crave more insight into Simone's backstory, newly revealed rivalries and faux pas—and mysterious bonds with bad-boy barkeep Jake (Tom Sturridge), whom she's known since they were kids, and equally elegant restaurant chief Howard (Paul Sparks).
"It was incredibly important to both Tom and I that our shared history really be shared and that we iron out those details together," FitzGerald offers of Simone and Jake's dicey connection.
See Also
Caitriona Balfe & Sam Heughan just landed major movie roles.
"We had a very long meeting with Stu and Steph and we went year by year and really mapped out where these characters are coming from. I love that we know so specifically those details, but we don't speak to them, at least in this first season. Tom and I both feel that that kind of mystery and ambiguity is really exciting to play as actors."
As for Howard, FitzGerald says upcoming episodes, particularly the Season 1 finale, will bring clarity.
"Simone and Howard have both been at the restaurant the longest," she says. "They had offered Simone his job and she turned it down. So, I think there's this interesting power play between the two of them, but a lot of fondness, perhaps even some romantic history once upon a time. And also competition."
And if a toast to Season 2 is imminent—or we showed up on her doorstep a la Tess—what would the elegant Ms. FitzGerald serve us?
"Champagne, champagne, champagne!" she exclaims. "I drink it all the time, I love it so much. It just makes every day feel like a party!"
Sweetbitter, Sundays, 8/7c, Starz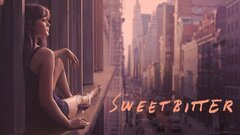 Powered by