What That 'Timeless' Finale Death Could Mean If Season 3 Happens
[The following contains MAJOR spoilers for the Timeless Season 2 finale.]
The fate of NBC's Timeless continues to remain unclear despite one heck of Season 2 finale cliffhanger.
In the show's May 13 episodes, "The General" and "Chinatown," the team experienced one big loss as [SPOILER] Rufus (Malcolm Barrett) was killed. Despite their efforts to save their friend, Lucy (Abigail Spencer), Wyatt (Matt Lanter), Jiya (Claudia Doumit), and Flynn (Goran Visnjic) were forced to return to the present without him.
See Also
Everything from '60s glam to Civil War uniforms and colonial Massachusetts garb.
The unique laws surrounding time travel in Timeless's universe were suddenly broken when a new lifeboat entered their space, and aboard were different versions of Lucy and Wyatt — presumably from the future.
"Well, what are you waiting on?" this strange version of Wyatt questioned.
"You guys wanna get Rufus back or what?" the companion version of Lucy asked.
Although Rufus' death was upsetting, it wasn't entirely shocking as Jiya brought up his potential demise throughout the season. Still, the final moments were certainly surprising. So what could this mean for Season 3 — if it happens? There would definitely have to be some explanation as to how these new versions of Lucy and Wyatt can occupy the same time as the versions we usually see.
See Also
Now is the time to show your favorite bubble shows the love they deserve!
Also, how will the team procure their perished Rufus, especially since the team reiterated that they can't return to a time they've already been. So many questions with not many answers, and despite fans' optimism, there could very well be no answers at all.
If the show isn't picked up for a third season — it was canceled after one season and then brought back after fan backlash — fans will never know what became of Rufus, or if he even has a chance to live.
Killing of one of the three main leads is ballsy, but viewers are hoping it pays off. On Sunday, show co-creator Shawn Ryan reflected on that cliffhanger and possible plots moving forward.
See Also
Will there be a baby in the bunker?
"Well, I'm reluctant to say too much about Season 3 — not because I want to keep secrets from people, but because I know things can change," said Ryan to Entertainment Weekly. "At the end of Season 1, we had a lot of Season 2 planned, but a lot of that changed by the time we actually started crafting the episodes."
Without that renewal set in stone, it's understandable why the showrunners would be reluctant to get too far ahead of themselves. "I'd be lying if I said I knew for sure what happens in Season 3 because you're always one writer's idea away from heading in a completely different direction," Ryan continued. "If and when we get the greenlight for Season 3, we'll assemble the team and see where we end up."
There's still time for a possible renewal, so hopefully fans will get what they fought so hard for in Season 1.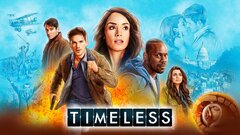 Powered by