Fans React to That Big 'Timeless' Bombshell — Is [Spoiler] Actually Pregnant?
[Warning: Spoilers below for the latest episode of Timeless.]
Timeless' penultimate episode dropped a huge bomb on fans.
In the episode, the time-traveling agents — Lucy (Abigail Spencer), Rufus (Malcolm Barrett), Wyatt (Matt Lanter), and Jiya Claudia Doumit) — took off for 1981 to prevent the attempted assassination of former President Ronald Reagan. But the most unexpected moment happened when they returned.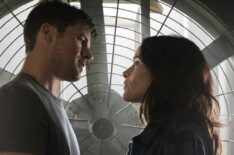 See Also
The gang travels back in time to '40s Hollywood in the March 25 episode.
Jessica (Tonya Glanz) and Wyatt were talking when she mentioned her very much alive brother, Kevin. Obviously, Wyatt was confused as he believed Kevin died when he was a child.
Wyatt then asked if there was something else she'd been keeping from him, spurring Jessica to reveal: "Yeah, there is. I'm pregnant." As if the Wyatt/Jessica/Lucy relationship triangle wasn't complicated enough!
Of course, fans reacted on Twitter:
How sure are you that #Timeless played with ALL of your emotions tonight?

We're positive (+). pic.twitter.com/EtLryYfxff

— Timeless (@NBCTimeless) May 7, 2018
NOTICE HOW JESSICA BRINGS OUT THE BOMB THE MINUTE WYATT IS STARTING TO GET SUSPICIOUS OF HER FAMILY #timeless #RenewTimeless

— fan of #Timeless being renewed 💁🏽‍♀️ (@timetofanout) May 7, 2018
Dear #timeless pic.twitter.com/vlu74ZhRsn

— Claudia Doumit (@JustDoumit) May 7, 2018
Jessica: I'm pregnant
Wyatt: #Timeless #RenewTimeless pic.twitter.com/CHciEaWyD3

— Lissete Lanuza Sáenz (@lizziethat) May 7, 2018
#Timeless
THIS EPISODE
OH
MY
GOD
How am I supposed to go to bed after this????

— 🐾 Cat Lady Mets Fan⚾ (@Caitie8) May 7, 2018
But do you think Jessica is telling the truth? Sound off in the poll and comments below.
Timeless, Season 2 Finale, Sunday, May 13, 10/9c, NBC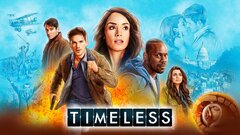 Powered by