'Criminal Minds': Kirsten Vangsness & Joe Mantegna Talk Finale, Season 14 & the Show's Real-Life Impact
Many crime procedurals have aired on network TV over the years, but not many have lasted as long as Criminal Minds.
The CBS favorite, which follows members of the FBI's Behavioral Analysis Unit as they profile criminals to solve crimes, just aired its Season 13 finale on April 18. And boy was it a nail-biter of a finale, with Penelope Garcia (Kirsten Vangsness) held hostage by a serial killer cult!
While the show may be entertaining to watch, it also serves an important purpose. This week, WE tv is honoring the 35th Anniversary of Missing Children's Day, first set up by Ronald Reagan in the '80s, by airing episodes of Criminal Minds focused on tracking down missing kids.
See Also
He does double-duty while also starring as BAU agent Luke Alvez.
Ahead of the marathon, TV Insider spoke with Vangsness and Joe Mantegna (David Rossi) about the show's importance today. The two also shared their thoughts on Season 14 renewal chances, which co-stars they want to return, and their favorites of the first 299 episodes.
This week's finale culminated with a pretty major cliffhanger for Garcia. How did you feel about how the season ended?
Kirsten Vangsness: We usually do table reads all together but I remember because our schedules were so packed I was like, 'Oh yeah, the new episode is tomorrow, I should sit down and read this script… holy God what's happening to me!'
I definitely have a lot of dirt under my nails from that cliffhanger that I'm holding onto very tightly, hoping that there will be a soft place to land somewhere, that will be wrapped up in 44 minutes in a Season 14 premiere.
Speaking of that, fans have been freaking out a bit about the show not receiving an official renewal yet, though showrunner Erica Messer seems sure you'll get it. Do you feel the same?
Joe Mantegna: Oh yeah, I think they wouldn't have even let us shoot those episodes if they hadn't had it pretty strongly in their minds that they were going to bring us back. Even if they brought us back for just one episode to finish up this storyline, they'd have to do that. Otherwise, it would be the biggest mistake in network television for the last 100 years. You have fans all over the world that have invested 13 years in this show. They give show wrap-ups for shows that have been on for two or three years.
Our show is produced by two networks so that sometimes delays things but I feel pretty confident within the next two weeks we'll get the go-ahead.
If next season was the final season, how would you want to see Rossi and Garcia's stories tied up?
Vangsness: I want her to be a lead singer in a band. I want her to catch every bad guy and have them all put away. And then she just starts a kitten rescue. And plays weird punk-folk music in Oregon for the rest of her life.
Mantegna: [Rossi]'s supposedly been married three times so maybe finally he finds a true love, that partner he wants to walk off into the sunset with. That would be nice. Right now it's just Rossi and his dog, we want to move past that.
Any cast members you'd want back for the final run if next season was the last?
Vangsness: Our team, our eight [ is our magic eight. That is of paramount importance for me. And we have great guest stars, so really, any of them. We could just do all of the guest stars we've had and put them in mustaches so they could play different characters, I'm fine with that.
Mantegna: Even if people from the original team want to come back for an episode — have Shemar [Moore] come back, Thomas [Gibson] come back, Jean Tripplehorn, Jennifer Love Hewitt, Rachel Nichols — I could see everybody making some sort of an appearance. Even if it's just a 'let's find out what they're up to' and it's a video chat. That would be a fun way to wrap it all up.

All of that said, the show's had a crazy successful run of 13 seasons already. Why do you think it's still able to remain fresh and engaging for viewers?
Vangsness: I think people love a good mystery. And my biggest position has always been that they can tell that we as human beings have chemistry and the characters have chemistry — it's a lot of chemistry in one room. They enjoy the chemistry.
Mantegna: I agree. And I think there's an educational aspect to this show that people appreciate. You can watch these terrifying moments and it's intense but there's also something to be learned from it, and I think that's of value.
Ironically, WE tv is doing this Criminal Minds marathon around missing children, and when you watch those episodes you learn from it. You see the solutions and you can benefit from that in your real life. This is a real organization, and these are real things that happen.
Vangsness: Because we have somebody [on the Criminal Minds team] who used to work on a Behavioral Analysis Unit, we tend to know things like 'this is what you would do to protect your kids.' We tackle things in a way that isn't hitting you over the head but makes you realize the importance of what we're highlighting.
See Also
Kathy Bates, Laurie Metcalf, Mark Hamill and more make the list.
Have you ever received feedback from families or people with similar experiences who have watched the show?
Mantegna: I just had a letter that came to my website a few days ago where this woman thanked us for an episode that dealt with child abduction. She had experienced a situation where there was a big distraction in a huge crowd of people, and because she'd seen our show, she didn't allow this distraction to take her mind off of the child who was standing next to her.
Sometimes people do that, they cause a distraction so an accomplice can abduct a child. In that instance, it's already worth it.
Vangsness: We also have a lot of people tell us, 'My kid wants to be a forensic psychologist because of watching your show.' Its reach is really far. It's neat to see the things that come from it.
There have been so many great episodes through the seasons, but is there one that sticks out in your mind as a favorite?
Mantegna: There was a whole series of episodes that we did that involved a dear friend of mine, Meshach Taylor. He did three episodes where he played this character who was my commanding officer in Vietnam. He passed away a few years ago, and this was his last acting job was to do an episode of Criminal Minds with me that I directed. It had very strong meaning for me.
I was able to do an episode where we honored the character and had a funeral for him. We buried his character and I personally, in a way, was able to bury my friend. That was very important for me.
Vangsness: There are so many that I love — I love doing it, it's a hard show for me to watch. Certainly those Meshach ones were impactful for all of us because we all loved him and were so happy that Joe brought him into the fold of the family.
And I love the ones where we go off the beaten path, those magical realism ones.
Criminal Minds teams up with 35th Anniversary of Missing Children's Day for episodes starting Saturday, April 21, and airing Mondays and Saturdays through May 14 on WE tv. Check your local listings.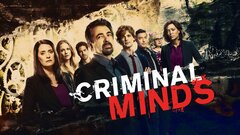 Powered by