Carol Burnett's New Netflix Series Will Melt Your Heart
We're just going to come right out and Tarzan-yell it: We love Carol Burnett.
The comedian's namesake variety show was honored with a 50th-anniversary special in 2017 and she'll be the very first recipient of the Peabody Career Achievement Award in May. But is retirement on her mind? Nope!
On the funny lady's new Netflix series, A Little Help With Carol Burnett, she moderates a panel of 4- to 8-year-olds who offer advice ("Follow your heart," "Bribery always works") to grown-up guests, both celebrities and regular folks. She was nice enough to kid around with us.
See Also
'Our sketches still get belly laughs,' says the legend.
Was W.C. Fields wrong when he warned about working with children and animals?
I love working with kids! Not that this was work. This was like going back to a playground. Two years ago at a birthday lunch with friends, one asked, "How old are you inside, Carol?" I said, "Eleven." These kids are younger, but I can identify. Nobody ever asked me for advice at that age. Today the kids are so much more—I don't know, grown-up? Sometimes their advice was very good.
Out of the mouths of babes, right?
They don't censor themselves. They just raise their hands and what's on their mind goes "boop," right out of their mouth.
What problems do they solve for the celebrity guests?
Taraji P. Henson wanted to get back at her coworker for all the pranks he pulls. Taraji was adorable. She slid down the slide! In high heels! Tony Hale and his wife couldn't agree on what TV show to watch.Wanda Sykes asked how to be honest without hurting her family's feelings. Lisa Kudrow had conflicting commitments. It was a kick to meet all of them.
See Also
TVGM loves the funny comedienne, and there are 14 front-and-center cover photos to prove it!
Tell us about some of the kids.
Robert is hysterical. He could never stop moving, like the Energizer Bunny. Caleb is smart beyond his years. He's teaching me how to work Instagram. Emmersyn was like a grown-up lady: I loved the way she talked and used her hands.
The Carol Burnett Show has such staying power. Why is that?
It holds up because we didn't get into current events. People want to laugh. I hope this show gets an audience because the kids are just so funny and sweet.
A Little Help With Carol Burnett, Series Premiere, Friday, May 4, Netflix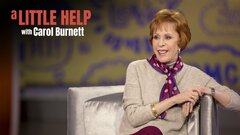 Powered by