5 Yummy Facts About 'The Pioneer Woman' Star Ree Drummond
Ree Drummond, the star of Food Network's The Pioneer Woman, went from city girl to country mama when she fell in love with ranch owner Ladd Drummond, a journey chronicled in her 2011 memoir, Black Heels to Tractor Wheels.
She now has four kids with the cowboy she nicknamed the "Marlboro Man." On the May 12 episode of her daytime cooking show, Drummond honors some of her favorite moms with recipes for sweet Mother's Day treats like strawberry cheesecake brownies and vanilla meringue cookies. We found out more about this flame-haired force of nature.
See Also
Don't worry, unlike Liv's dishes, this recipe uses substitutes for real brains!
1. She owns a fancy inn.
The Pioneer Woman Boarding House is an eight-room "cowboy luxury" hotel in Pawhuska, Oklahoma. It opened in April, but that "No Vacancy" sign's a-flashing. It's booked through the end of the year.
2. They live in Ladd's childhood home.
The Drummonds are one of America's biggest ranching dynasties, and their sprawl—which houses 2,500 head of cattle—has been in his family for five generations. The homey kitchen where Drummond shoots her show is in a separate house on their property.
See Also
She's on a new search for love.
3. She loves Basset hounds.
Drummond says no canine can ever replace Charlie the Ranch Dog, her basset who passed away in early 2017. She even wrote a series of children's books in his honor, Charlie the Ranch Dog. But last Christmas the family welcomed another puppy from the floppy-eared breed, Henry the Great.
4. She's quite flexible.
The cook studied ballet—as a teen she traveled to dance competitions around the country—and is still super-stretchy (she can put her ankles behind her head). Her next fitness goal is to get six-pack abs.
See Also
Beyond reality cooking competitions and Food Network documentaries, the scripted realm can also get foodies' mouths watering.
5. Flying is her main phobia.
In 2008, Drummond confessed to the fear on her blog. One reason: She was once on a plane that blew a tire on takeoff and required the landing gear to be checked by an Air Force jet flying beneath it before they could make a (rough) landing. That'll scare anyone!
The Pioneer Woman, Saturdays, 10am/9c, Food Network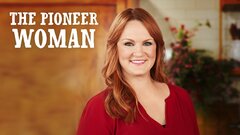 Powered by