Brain Food: Enjoy a Taste of 'iZombie' With This Recipe
Bon Appétit!
iZombie's Liv (Rose McIver) may have to chow down on brains to survive, but at least she gets to whip them up into delicious dishes. And the show's prop master, Aleya Naiman, has transformed brains into everything from a PB&J sandwich to sushi.
"The team creates [gelatin substitute] agar-agar brains," Naiman says, "and then the food stylist arranges the plates to make them look yummy."
Here's a recipe for fans to re-create one of the show's tastiest treats, with the finished product pictured above.
Chiles en Nogada
(Stuffed Poblano Chiles With Walnut Sauce and Brains)
Serves 12
INGREDIENTS
FOR THE FILLING
8 oz. "human brains" (can use sweetbreads,
ground turkey or agar-agar)
2 cloves of garlic, peeled, plus 2 more
peeled and finely chopped
1 large white onion, halved
Kosher salt, to taste
2 tbsp. lard or canola oil
2 tbsp. finely chopped parsley
3 plum tomatoes, cored, peeled and chopped
2 tbsp. raisins
2 tbsp. finely chopped blanched almonds
1/2 Granny Smith apple, peeled, cored and
finely chopped
1/2 pear, peeled, cored and finely chopped
1/2 peach, peeled, pitted and finely chopped
1/2 medium ripe plantain or banana, peeled
and finely chopped
FOR THE WALNUT SAUCE
4 oz. walnuts
1/2 cup milk
6 oz. queso fresco
1 cup crema or sour cream
2 tbsp. sherry
3 tbsp. sugar
Kosher salt, to taste
FOR THE CHILES
12 poblano chiles
2 cups canola oil, for frying
1 cup flour
5 eggs, separated
2 tbsp. kosher salt
1 tbsp. distilled white vinegar
Seeds of one pomegranate
INSTRUCTIONS
1. Prepare the filling: Bring the brains, 2 whole cloves garlic, half the onion and 2 cups water to a boil in a 4-qt. saucepan over medium-high heat; season with salt, reduce heat to medium-low and cook, covered, until brains are tender, about one hour. Transfer brains to a cutting board, finely chop and set aside. Pour cooking liquid through a strainer into a bowl and set aside. Return saucepan to medium-high heat and add lard; finely chop remaining onion and add to pan along with chopped garlic and cook, stirring, until soft, about 8 minutes. Add parsley and tomatoes and cook, stirring, until tomatoes break down, about 5 minutes. Return brains and liquid to pan with raisins, almonds, apple, pear, peach and plantain. Cook, stirring occasionally, until fruit is cooked through and mixture is thick, about 10 minutes. Remove from heat. Season with salt and set aside.
2. Place walnuts in a 2-qt. saucepan and cover with water; bring to a boil and cook for 5 minutes. Drain, and use a stiff-bristled brush to peel away most of the skin from walnuts; set aside. Bring milk to just under a boil in a 2-qt. saucepan over medium-high heat, and add walnuts; let sit, covered, to soften nuts, about 30 minutes. Transfer walnuts and milk to a blender along with queso fresco, crema, sherry and sugar, and puree until very smooth and thick, at least
2 minutes. Season with salt and transfer to a bowl; cover and refrigerate until ready to use.
3. Heat broiler to high. Place poblano chiles on a foil-lined baking sheet and broil, turning, until blackened all over, about 20 minutes. Transfer chiles to a bowl and let cool. Remove and discard seeds and ribs, leaving chiles intact. Place about 2 to 3 tbsp. filling inside each chile and close chile around filling to form a tight roll. Refrigerate until ready to use.
4. Heat oil in a 12″ skillet over medium-high heat. Meanwhile, place flour on a shallow plate, and set aside. Beat egg whites in a bowl until soft peaks form; whisk in egg yolks, salt and vinegar. Working in batches, dredge each chile in flour, shaking off excess, and coat in egg batter. Fry in oil, flipping once, until golden brown and filling is heated through, about 5 minutes. Transfer chiles to a wire rack to drain. Place on serving plates, and spoon walnut sauce over chiles to cover completely; sprinkle with pomegranate seeds before serving.
iZombie returns with Season 4 in 2018 on The CW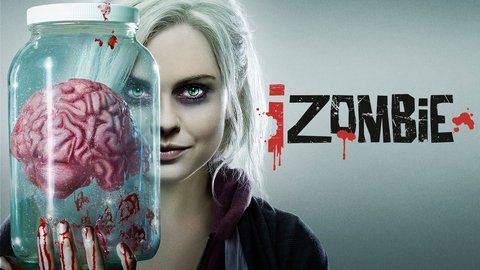 iZombie
where to stream
Powered by