TV Dinners: 4 Scripted Series Guaranteed to Leave Foodies Satisfied
If you're a foodie, there are plenty of cooking shows, food documentaries, reality cooking competitions, etc., in which to indulge. But as entertaining as Gordon Ramsay losing his marbles over a lack of lamb sauce can be, the structure can become mundane. If that happens, spice up your food programming with a dash of these four scripted series that will satisfy your hunger for a show with a variety of characters, juicy plot, and sizzling action.
Master of None
Like Tom on Parks and Recreation, Aziz Ansari's character in Master of None is in love with food. The second season begins in Italy, where Ansari's character Dev is finishing up his apprenticeship in a pasta shop. He makes and eats pasta, hosts a cupcake competition show when he gets back to U.S., and convinces his Muslim cousin to try pork for the first time. This show is equally about love for food as it is about Dev's life and relationships. If you like your dinner with a side of comedy and modern dating, then you need to make a date with Master of None.
Before you discard this show because of its zombie premise, hear us out. Between the murder-solving and zombie relationship trouble in each episode, the writers come up with a brief cooking scene where zombie protagonist Liv Moore (Rose McIver) incorporates brains and a whole lot of hot sauce into common dishes like pad Thai and breakfast burritos. The scenes are rather impressive given that Liv cooks a majority of her meals at the city morgue, but overall, the recipes are worth replicating if you replace human brain with tofu or chicken. And the distinct, sharp cooking sound effects are music to a foodie's ears.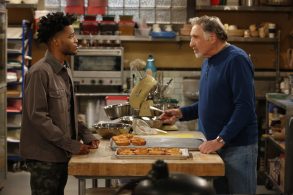 If anything could bring generations and cultures together, it's a warm, flaky glazed donut. In this sitcom, donut shop owner Arthur Przybtszewski (Judd Hirsch) reluctantly hires Franco Wicks (Jermaine Fowler), a young guy with a go-getter attitude, to modernize his store to keep up with the gentrified neighborhood. The most foodie episode of the series so far is the second episode, where Franco strays from the traditional donut recipe and creates a sriracha-flavored donut. Most of the donuts on the show are real and come from Holly's Donuts in Studio City, which means you can buy a sriracha-flavored donut or a PBJ donut. Mmm…delish.
Love Cuisine
Culinary excellence meets romance in this 2015 Taiwanese romantic comedy drama, available on Netflix. Feelings start to brew when an experienced chef named Oscar Han (Lego Lee) cooks up trouble under the supervision of the esteemed Chef Fang Xiao Rou (Allison Lin). The more they clash, the more they grow closer. Warning: Do not watch this show on an empty stomach. The cooking scenes are beautifully shot and will cause mouth-watering, ravenous behavior. Proceed with caution and oven mitts when the romance gets too hot to handle.
See Also
We'd gladly share a table with these fictional gourmands from television shows.