Kneel Before the Latest 'Krypton' Twist! What to Expect After That 'House of Zod' Reveal
[Spoiler Alert: This article features spoilers about the April 18 episode of Krypton, "House of Zod." So go lock yourself in the Fortress of Solitude if you haven't watched yet.]
One week after its Voice of Rao reveal, the increasingly addictive Krypton has gone and thrown us a whopper of a curve that showrunner Cam Welsh calls a "season-changing, game-changing twist for us."
And he's not lying. In the final seconds of the episode, titled "House of Zod," viewers learned that the murderous Black Zero agent (played by Arrow alum Colin Salmon, pictured above) who had tortured and interrogated Seg (Cameron Cuffe) last week was actually Superman villain General Zod. Yes, from the future.
Originally teased in the pilot as a nameless up-and-comer within the terror group, Salmon's Zod is the still-to-be-conceived son of Seg's ex, Lyta (Georgina Campbell), and a total mystery to the Kandor authorities because, well, he's not from around these parts. Yet.
"The whole season gets turned on its head," says Welsh, explaining that time-traveler Adam Strange (Shaun Sipos) has been a bit off on his mission to save Kal-El from being Marty McFly'd out of existence by the world-collecting evil of Brainiac (Blake Ritson).
"Adam has come [from the future] to Krypton with a very specific message to Seg. You know, it's 'Superman's very existence is under threat and we have to stop Brainiac, he is coming back in time to change history.'
"But we all know that Brainiac was always coming to take [over] Kandor City, and that is what Adam got wrong. Zod was coming back to change history. That is the big turn."
And it's not the only one. Welsh confirms that Zod's master plan isn't even to end the El bloodline so that Superman is never born: "He is actually trying to save the planet."
So while Zod will become "a sort of father figure" to his own mother — who has no idea that she's destined to birth the iconic DC Comics baddie — he may also become an ally to Seg, the grandfather of his cape-wearing enemy in our timeline.
"That is what steers the second half of the season," continues Welsh. "Seg kind of has Zod and Adam both vying for his soul, and he's stuck in the middle."
He'd better make a choice soon, since we're midway through the first season and Brainiac isn't easing up on his plot to consume the entire planet.
Krypton, Wednesdays, 10/9c, Syfy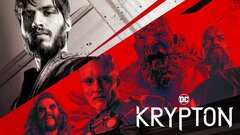 Krypton
where to stream
Powered by