'Walking Dead' Finale, Morgan Finds 'Fear,' HBO's Elvis Tribute, Academy of Country Music Awards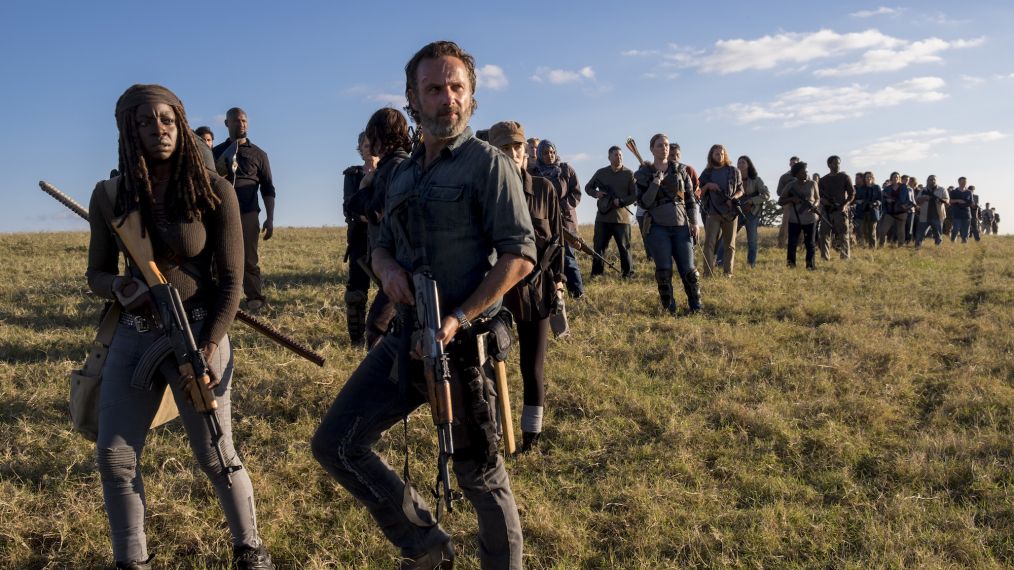 A selective critical checklist of notable weekend TV:
The Walking Dead (Sunday, 9/8c, AMC): We've been hearing this all tiresome season, but as the eighth season of the horror saga concludes, we're promised a "last stand" in an "all-out war" when the various communities (Kingdom, Hilltop, others I've conveniently forgotten) join forces to take down the apparently unkillable Negan (Jeffrey Dean Morgan) and those odious Saviors. If this punishingly overextended combat scenario isn't resolved one way or the other, it's going to take a lot to convince me to come back for a ninth season. I miss the days when the existential zombie threat was what fueled this show instead of a frenetic series of shoot-em-ups.
Fear the Walking Dead (Sunday, 10:10/9:10c, AMC): This may be my favorite episode of the Walking Dead spinoff in several years—because there's almost no sight or mention of the annoying Madison (Kim Dickens) and her exasperating, and also apparently unkillable, brood. The focus is on Walking Dead refugee Morgan Jones (Lennie James), the pensive lone wolf whose self-imposed exile becomes a cross-country odyssey that lands him in the intriguing company of new characters played by Garret Dillahunt and Maggie Grace. Any hopes the series may have just started over with an all-new cast are eventually extinguished, but this is a promising start.
Elvis Presley: The Searcher (Saturday, 8/7c, HBO): As epic as The King's own legacy, this three-and-a-half hour musical biography traces Elvis Presley's career and influences from his Southern roots and early burst of fame in the 1950s through his superstardom in the '60s and '70s. Among those interviewed: ex-wife and executive producer Priscilla Presley, and musicians including Bruce Springsteen and the late Tom Petty.
53rd Academy of Country Music Awards (Sunday, 8/7c, CBS): Billed as country music's "Party of the Year," befitting a ceremony staged in Las Vegas, this year's ACM Awards fest is also something of a throwback. The show from MGM Grand Garden Arena will for the first time feature "ACM Flashbacks," during which performers will team up with another top artist to perform one of their songs from a bygone year: in this case, 1993. Host Reba McEntire performs her hit "Does He Love You" with Kelly Clarkson, Alan Jackson revisits his "Chattahoochee" with Jon Pardi, and Toby Keith duets with Blake Shelton on Keith's #1 debut single "Should've Been a Cowboy." Other highlights: Carrie Underwood will deliver the world TV premiere of her soon-to-be-released single, and performances are also expected from Kenny Chesney, Lady Antebellum, Dierks Bentley, Miranda Lambert and many more. There may even be some awards handed out.
Killing Eve (Sunday, 8/7c, BBC America): In the second episode of this kicky, kinky spy thriller that has quickly become one of my favorite new spring shows, disgraced agent Eve (Sandra Oh) is recruited by mysterious MI6 operative Caroline (Fiona Shaw) to join a secret unit tracking the deadly Villanelle (Jodie Comer). And while the insouciant assassin defies orders to pursue her next exotic kill, Eve begins to realize she may have actually crossed paths with her prey during the hospital massacre. Game on!
Inside Weekend TV: Formerly a Saturday Night Live writer for six seasons, John Mulaney takes center stage as first-time guest host on SNL (Saturday, 11:30/10:30c, NBC). Jack White is the musical guest. … After Fox's The Simpsons ruffled feathers last week by comically dismissing the cultural controversy over the character of Apu, truTV has decided to replay its terrific documentary The Problem With Apu (Sunday, 7/6c), in which South Asian-American comedian Hari Kondabolu discusses his issues with the stereotyped character. … Food Network's Worst Cooks in America: Celebrity Edition (Sunday, 9/8c) welcomes some familiar faces to try to learn some kitchen skills. This season's cast includes Catherine Bach, Maria Bamford, Nolan Gould, La Toya Jackson, Oscar Nunez, Bronson Pinchot and Ian Ziering. … Former FBI Director James Comey launches a media blitz to promote his headline-making new memoir, sitting with George Stephanopoulos for an ABC News special, A Higher Loyalty: The Comey/Stephanopoulos Interview (Sunday, 10/9c).