'Roseanne' Producer Asks Fans to Look Beyond Its Star's Offscreen Controversies
Another week means another controversy for Roseanne. Since the show's premiere on March 27, there has been a lot of noise regarding Roseanne Barr's political affiliations as a Trump supporter, but new resurfacing images she did for a satirical publication are coming back to haunt her.
The photos in question, which you can see in the tweet below, find Barr dressed in a Hitler-themed house outfit, as she bakes people-shaped cookies in the oven. The comedienne reportedly received backlash at the time of the 2009 photo shoot for Heeb Magazine—which was published from 2001-2010.
Roseanne Barr dressed up as Hitler and pretended to eat burnt cookies out of the oven.

1. This is beyond disgusting.
2. How the heck did she get a new show after this?
3. ABC should cancel her show. pic.twitter.com/nTC6zX3nHW

— Christopher Bouzy (@cbouzy) March 29, 2018
But it was a producer of the reboot's response to The Hollywood Reporter regarding the sudden resurfacing that has fans turning heads. Bruce Helford, co-showrunner and producer of Roseanne, was asked about the controversial images, and he insists that the show shouldn't have anything to do with its star says and does offscreen.
"I know that Roseanne is a very staunch supporter of Israel and she has said as much," Helford told THR. "I imagine there's probably some amount of parody involved and all that. I don't know the context of that so I wouldn't make a comment on it. My feeling is that people should just watch the show and judge it on its merits. Watch the show without the accompanying background noise."
See Also
The ABC revival doesn't shy away from much.
The advice may be easier said than done for some viewers, as many find the images offensive. But Helford continued to urge people to give the show a chance, saying, "Everybody, including Roseanne, wanted the show to be balanced. When we talk about wanting to open a dialogue in America, that's something that the show does. We're not trying to perform brain surgery or cure cancer. We all hoped that this would open a dialogue where people would start laughing at themselves a little bit, get a little less polarized and realize that this is a universal conversation."
See Also
The news serves as further validation for its Season 2 renewal.
Many want to believe that Roseanne is the same exact person on- and offscreen, but Helford's words imply otherwise.
"Lots of families find themselves divided on these issues. There's got to be a way to talk and still love each other the way that Roseanne and Jackie made their peace. And that's really what we want to have come out of it."
As the weeks go on, it will be interesting to see if the ABC smash-hit will continue to be shrouded in controversy or find its rhythm with the Tuesday lineup. Either way, there's no denying its popularity—the show has already been renewed for a second season.
Roseanne, Tuesdays, 8/7c, ABC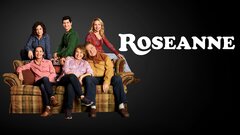 Powered by