An 'Outlander' Pilot Mystery Will Be Solved & Some Season 4 Scoop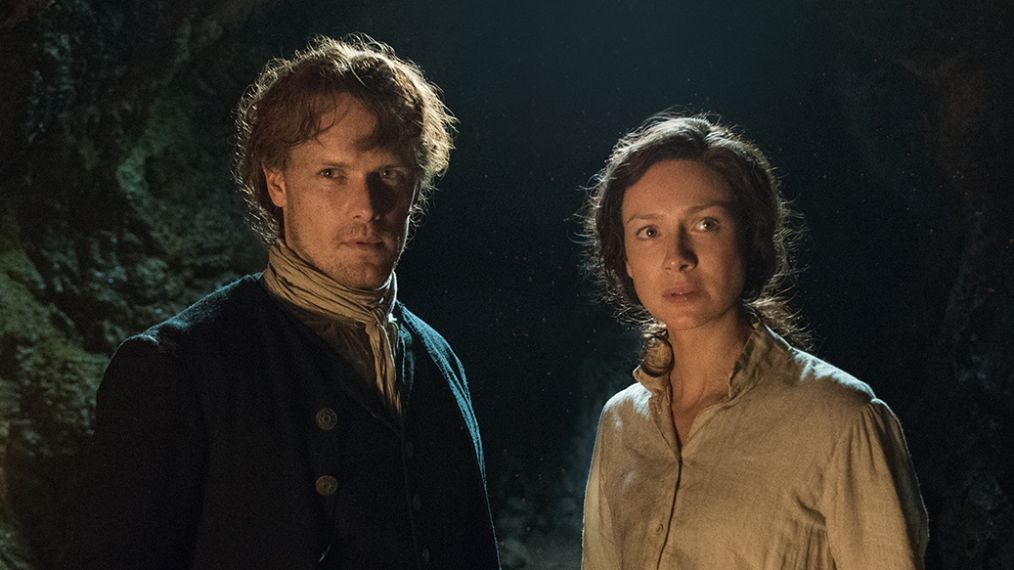 More and more details about Outlander's fourth season are coming to light, and one of particular interest this week can be traced all the way back to the pilot episode.
Fans of the series may remember the scene in which Frank (Tobias Menzies) encounters a mysterious stranger on the dark and rainy streets of Inverness. As Claire's (Caitriona Balfe) first husband makes way to their quarters, he discovers a man looking up at his wife through a window from the street below. Frank then approaches the (clearly Scottish) man and attempts to talk to him, but he turns and disappears.
For anyone who has forgotten the scene, check out the moment below:
It's a mystery that's been plaguing fans since 2014, and during the show's For Your Consideration panel this week, it was revealed that the stranger [SPOILER ALERT] is in fact Jamie Fraser (Sam Heughan). Sure, that's what people have been saying from the beginning, but what does it mean? Is Jamie able to travel through time like Claire?
All will be explained eventually, according to producers and Heughan. "It hasn't been explained and hopefully we get to that point where we can explain it, but Diana [Gabaldon] has said many times that it is Jamie Fraser," confirmed producer Maril Davis.
Meanwhile, Heughan dropped some more bombshells, saying, "Diana has written that scene, and she showed it to a few of us. It's to be revealed." While this is exciting for fans to hear, this mystery has yet to even be addressed in the books, meaning it may not pop up in the show for a while.
For all the viewers suffering through Droughtlander, more exciting details about Season 4 have emerged. The cast and producers recently spoke with The Hollywood Reporter about the next episodes set to take place in America.
Previously announced was the addition of Orphan Black's Maria Doyle Kennedy as Jamie's Aunt Jocasta. The character, already based in America, will play a part in Season 4. "She sounds and looks like his mother," Heughan said. "Jamie really is a family man so for him this is a huge moment, but she's a MacKenzie and the MacKenzies are notoriously big players in politics so that definitely comes up. This season is about family and Jamie getting all the pieces in place before it gets thrown on his head."
As for other new addition, Downton Abbey's Ed Speelers, Heughan and Davis promise he'll deliver a scary good new villain when he appears as Stephen Bonnet. "People are going to hate him. He's so charming, so you kind of like him, but you find out later down the line that he does some really terrible things. He's a great new villain," Heughan teased.
"He's such a nice guy in real life but this is really dark. He's such a great baddie with charm yet danger and he's adorable," added Davis. While producer Matthew B. Roberts said, "He can act like anybody and fit into any situation, and that's what makes him so different. You never know what you're going to get with him."
Consider us intrigued, although it's hard to imagine anyone more devilish than Black Jack Randall (also played by Menzies). But Stephen Bonnet isn't the only danger that Claire and Jamie will face in the New World. There is supposedly a rather [SPOILER ALERT] famous scene involving Jamie and a bear which concludes with the title "Bear Killer" that's said to be part of Season 4.
"There's going to be some surprises there for fans of the books. But it's fun. It's a new world and there are a lot of dangers there and the bear is one of them," Heughan stated.
As more info on Season 4 emerges, the episodes are clearly taking shape, giving fans what they need to survive this bout of Droughtlander.
Outlander, Season 4, 2018, Starz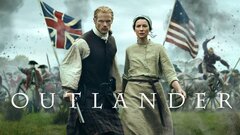 Powered by