'Outlander' Season 4: See Sam Heughan Arrive to the Set in Costume
Some of the Outlander cast has been spotted on the set in Glasgow, Scotland, as filming for Season 4 continues in the U.K.
Sam Heughan, who plays Jamie Fraser, was snapped arriving in period costume and waved to fans who were lining the streets. Also on location were lots of extras, also in period pieces.
Season 4 of Outlander follows Jamie and Claire's (Caitriona Balfe) journey as they settle into a new life in 18th-century America. Most of the filming (so far) has taken place in different parts of Scotland, which are substituting for colonial America.
See Also
See the telling shots of Jamie and Claire's daughter filming on set.
But not to worry—Outlander's production team is top-notch, and they have regularly transformed Great Britain and other places to look like far-away locales.
For example, in Season 3, when Claire and Frank (Tobias Menzies) lived in Boston and were on campus at Harvard, those scenes were actually filmed in Glasgow. And later in the season, when Jamie and Claire head on their voyage to Jamaica to rescue Young Ian (John Bell), it was all shot in Cape Town, South Africa.
In the photos below, put out on social media by lucky fans who got to see the cast arrive, Sam is in his usual "Red Jamie" wig. He also has on dark breeches, leather boots, and cravat around his neck.
Love the boots and white coat underneath!💏 #Outlander @Outlander_STARZ @OutlanderHQ @OutlanderOnline @OutlanderHome @ncoutlanderfans @JAMMFWarriors @mymtbrain @Sheugs pic.twitter.com/U2akv10OcM

— MacBrownie (@brownie_mac) March 14, 2018
Yay !!! Sam arriving in Glasgow today 🎬🎬📽📽📽🎞🎞 #Outlander #OutlanderSeason4 #jamesalexandermalcolmmackenziefraser pic.twitter.com/funBomQkKG

— Cocoab (@cococookie01) March 14, 2018
#Outlander star Sam Heughan is spotted in Glasgow as filming for the hit show takes place in the city centre. pic.twitter.com/ZL3ODPOmlS

— BBC Scotland News (@BBCScotlandNews) March 14, 2018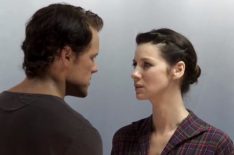 See Also
The passion is palpable.
Outlander, Season 4, 2018, Starz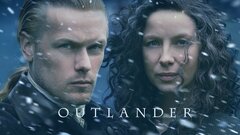 Powered by