Sam Heughan Implies 'Outlander' Sex Scenes Will Be Different in Season 4
In the middle of Droughtlander, fans of Outlander have been treated to a lot of info on what's to come in Season 4 this past week. From the confirmation of [Spoiler] Brianna's (Sophie Skelton) arrival in the 18th century to the possible return of Frank (Tobias Menzies)—likely in flashback form, since he died last season—there's been plenty for fans to digest.
Yet a recent statement that star Sam Heughan made to Elle about Season 4 is sure to have Outlander enthusiasts buzzing.
See Also
Some eagle-eyed fans spotted something telling in the bonus footage.
The show, which centers around Claire (Caitriona Balfe) and Jamie's (Heughan) life together, is notorious for steamy scenes between the couple.
While attending a Television Academy panel for the series, Heughan spilled to Elle that those famous sex scenes will likely be very different in the newest season, which has yet to set a premiere date. "It's a very important part of their relationship," Heughan told Elle about Jamie and Claire's physical nature.
"They're slightly older," he admitted, "so maybe it's less energetic, who knows? But they are madly in love with each other. They're older now, and it's the first time we actually get to see them as this couple that actually can be together and not be in some sort of dire drama.
"Up until now, there's always been something going on. It's nice, for a brief moment, to see them be able to relax in each other's company, though of course it's Outlander, so it doesn't last long."
See Also
The producers answered that question and teased Season 4 in a new panel.
So what can we deduce from Heughan's words? While Jamie and Claire are finally back together, those fiery scenes that fans have come to know may be tamer now that there's less uncertainty.
In Season 1, Claire's relationship with Jamie is new and exciting, while Season 2 focused on the Battle of Culloden and the fickleness of war, whereas Season 3 saw them reunited and rekindling things. Ultimately, it sounds like the honeymoon is over in Season 4, but not in a bad way—there's no love lost between this favorite duo.
There's no denying that the saying "absence makes the heart grow fonder," is entirely true when it comes to Claire and Jamie, so we're sure fans will be satisfied even with the modifications to one of the show's memorable aspects.
See Also
Check out what Jamie looks like in upcoming episodes.
Let us know what you think about Heughan's implications in the comments below!
Outlander, Season 4, 2018, Starz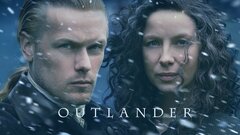 Powered by