'Roseanne': How Challenging Was It for the Cast to Return to Their Characters? (VIDEO)
She's back! And by "she," we of course mean Roseanne Barr, who is bringing back her classic sitcom Roseanne to ABC starting March 27. And if you haven't heard (and how could you not?), everyone is back!
Besides Barr and John Goodman (no, Dan Conner is not dead…we're just forgetting that happened in the original, okay?), stars Lecy Goranson (original Becky), Sara Gilbert (Darlene), Michael Fishman (DJ) and Laurie Metcalf (Jackie) are all back.
Even Sarah Chalke, who played Becky when Goranson left the series in the middle of its original run, is back as a new character. Other familiar faces (hi, Johnny Galecki) will also pop up throughout the eight-episode revival.
See Also
The reboot doesn't shy away from tough topics like race, gender, politics, and more.
However, talking about bringing back one of the most popular sitcoms of all time is one thing—actually doing it is another. How challenging—or easy—was it for everyone to get back in the well-worn shoes of the Conner family for the revival?
Barr, Goodman, Metcalfe, Goranson, Fishman and Chalke filled us in at the Television Critics Association winter press tour, and they also let us know where we find everyone in the revival.
Check it out:
Roseanne premieres March 27 with two episodes, 8/7c, ABC.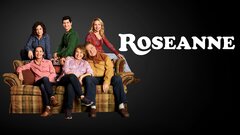 Powered by