'Grey's Anatomy': Fans React to Jessica Capshaw & Sarah Drew's Exit
Yesterday the news broke that Jessica Capshaw and Sarah Drew would be finishing their runs on Grey's Anatomy with the end of the current season—fans are displeased to say the least.
In statements released yesterday by show creator Shonda Rhimes and showrunner Krista Vernoff, they expressed their thankfulness to Capshaw and Drew for bringing such important characters as Arizona and April to life. While the actresses also posted their own statements on social media, thanking the show for their experience, Capshaw expressed gratitude for the role of Arizona.
Meanwhile, Drew's words clued fans into how quick the decision was made. "Thank you for all the love. I know you're sad," she wrote. "I'm sad too. I haven't really had the time to process this information. I've been with it for less that 48 hours, so I'm not ready to say my thank yous and give an all encompassing statement about my 9 years here."
It is clear that neither one of the actresses seem to have chosen to go, but were asked to leave by the showrunners who deemed the reason to be creative choices.
Part of Vernoff's statement read, "As writers, our job is to follow the stories where they want to go and sometimes that means saying goodbye to characters we love." Yet this conclusion doesn't satisfy the many fans of the Shondaland show, which has been on air for 14 seasons.
The internet all but went mad when fans found out the shocking news, so of course we had to share some of the intense reactions that have taken place since then. See what fans had to say in the tweets below, including Jesse Williams, who plays Jackson on the show.
1of2: Sarah and Jessica are easily among my very favorite people and coworkers, so this news fuckin sucks. Their immense talent speaks for itself but it's them as people that I'm so grateful to know, privileged to have worked with and learned from.

— jesse Williams. (@iJesseWilliams) March 8, 2018
2of2: To say they'll be missed is a massive understatement. Luckily for all of us, we'll get to see these artists continue bringing compelling and complex characters to life for many moons to come! #OurWorkIsForever

— jesse Williams. (@iJesseWilliams) March 8, 2018
George dies: I keep watching

Izzie leaves: I keep watching

Mark and Lexie die: I keep watching

Cristina leaves: I keep watching

Derek dies: I keep watching

Callie leaves: I keep watching

April and Arizona leave: IM DONE #GreysAnatomy pic.twitter.com/qVGHUj3flV

— always here for sarah drew 🌻 (@japrilss) March 8, 2018
I cannot get over the insanity that there's a "creative direction" that involves 72 new interns, but doesn't include April or Arizona. #GreysAnatomy pic.twitter.com/AGOJlFXsJ9

— Justin Kirkland (@justinkirkland4) March 9, 2018
shonda: "the lgbt and devout christian communities are underrepresented on tv"
also shonda: "let me fire the two actresses who represent those communities on my show" #greysanatomy pic.twitter.com/EDdg5OtD7u

— Chelsea Quintal (@ChelseaQuintal) March 9, 2018
me yesterday: CANT WAIT FOR THE NEW #GREYSANATOMY EPISODE!!
me today: I don't even know a greys anatomy? I hope it chokes on its low ratings

— romy (@dakotaseIlen) March 9, 2018
Never in my wildest dreams did I think we would lose both April and Arizona…They're a HUGE part of the show. #GreysAnatomy

— The Grey Method 💉 (@The_GreyMethod) March 9, 2018
All Grey's Anatomy fans: I just want Jackson and April to get back together
Shonda Rhimes: let's kill April off the show #greysanatomy

— Lynette☼ (@lynettetepe) March 9, 2018
how about instead of letting go of two best characters on the show, we get rid of all the annoying interns?? they're literally useless and do nothing for the plot don't @ me #GreysAnatomy

— m (@pearsonsobrien) March 8, 2018
Grey's Anatomy, Thursdays, 8/7c, ABC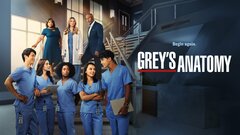 Powered by