'The Looming Tower': Tahar Rahim, Peter Sarsgaard and Wrenn Schmidt on Their Characters and Patriotism
Hulu's new limited series, The Looming Tower, based on Lawrence Wright's 2006 Pulitzer Prize-winning book The Looming Tower: Al-Qaeda and the Road to 9/11, is just as thought-provoking as it is haunting.
The 10-episode series takes a look at the inner workings of our government in the years before the tragic date of Sept. 11, 2001. It depicts the bureaucratic battle between the FBI and CIA, how terrorism operates overseas and foreshadows what would turn out to be the most infamous terror attack in American history.
Three of the show's main cast members spoke with TV Insider at a press event in New York City. Tahar Rahim portrays real-life FBI agent Ali Soufan; Peter Sargaard stars as CIA chief analyst Martin Schmidt; and Wrenn Schmidt plays Diane Marsh, a young, ambitious CIA analyst who works under Schmidt.
Tahar Rahim
What drew you to the character of Ali Soufan?
Tahar Rahim: I think it's great to play a character who is an American hero who's a minority, because it's not the usual. [Not] for me, [nor] for the audience. And the real man…the qualities of the character are those of Ali. When I talked to him, what moved me was the love of his country, America. And how much he's devoted to his work. First, I was afraid to be cast as your usual terrorist, but my agent said, 'No, it's not like that.' But I needed to take time to say yes.
What other types of research did you do for the role?
Chat with Ali, of course, to understand his soul, because I could imitate him, but it was much more interesting, more important, to understand his values and motivations. Plus, I had the script, and the two books [Wright's The Looming Tower and Soufan's book The Black Banners: The Inside Story of 9/11 and the War Against Al-Qaeda], so I had all the answers to my questions. Then I took what they wrote and tried to find the truth in the scene and in the moment.
What was it like to depict a character who's an immigrant and a Muslim?
I felt like this was brand-new. We don't often see that onscreen. I was like 'Yeah, I want to do that,' because it's rare. I hope it's going to help other actors as well to [go after] different parts. And [the character] shows [audiences] that these type of people exist, and they fought against [terrorism]. To me, the show says that you can be an American citizen with two different cultures. It's not about making a choice, but just marrying them. What the series says is, "divided we fail."
Peter Sarsgaard and Wrenn Schmidt
What drew you to your characters [Diane Marsh and Martin Schmidt]?
Peter Sarsgaard: I read the book years before. At first, I was interested because all the people involved were top-class. Larry [author Lawrence Wright] is someone I respect massively; I've read several of this books, and I knew he was going to be intimately involved. [Co-creator] Dan Futterman has written some of my favorite movies. And I knew [co-creator] Alex Gibney has made some absolutely incredible documentaries, and it's nice to have someone who is after the truth.
Wrenn Schmidt: I knew of the book and was very intrigued about the book. But I actually felt quite lucky [that] when I went into this I didn't know what part I was auditioning for. I've worked with Gibney before, and I think he's extraordinary. But I really feel part of the reason I got this job was because I didn't really understand fully what it was. I knew how powerful this book was, but I don't [feel] I fully wrapped my head around it until afterwards. Plus, I love history. Marrying history with storytelling was so interesting to me.
Did the show being labeled as "controversial" affect your decision to come onboard?
Sarsgaard: I said no initially because I was just distrustful of television. I just wasn't sure. It was really Larry, Alex and Dan. That was what got me. I saw the way corporate interests trying to read the mind of middle America had changed the content of what I was doing in a way that made it not compelling. It was bland. And I was asking myself, "Is this going to be made bland?"
Schmidt: I was also interested because Peter was involved. I was like, "He's good." [Laughs.]
Do you think enough time has passed since 9/11 that we can now look at it in a more critical way?
Sarsgaard: It's very [difficult] to keep people's minds on one subject in terms of, "let's think about this issue and work it all the way through." If people can tune in for this entire series, people can think consequently about an event that would have been difficult to think about right afterwards. After someone dies, you're not supposed to think about how their behavior might have caused their death.
Do you feel more skeptical or confident in government organizations after starring in this series?
Sarsgaard: I have a lot of respect for people who devote their lives to something like that. I love that the most patriotic person in the series is an immigrant. I do think our characters, in their own misguided ways, are also trying to serve the country.
Schmidt: I started to think more clearly about what our impact has been in the world. I think we've done a lot of good, but we've also made mistakes. I just hope people ask, "What does it mean to be the good guys?"
Talk about your characters' relationship onscreen.
Schmidt: They're a bit strange.
Sarsgaard: They love each other. They love eating boxed food together late at night. [Laughs.]
Schmidt: I think they're two people who mainly felt misunderstood, and when you find someone who does see the world similarly and whose mind functions in a similar way, it's a relief, and it's exciting.
Sarsgaard: The backstory I had in my head was this feeling of being an incredibly intelligent child and going through school always being the one who's bright, focused on school. That's a lonely place. And you don't trust other people's minds. And even your teacher's mind. If you're bright enough, you're like "I know more than you. I'm not interested in what's in your mind." I try to think of two things sometimes when I'm playing a character: Who their heroes are? And what were they like when they were in high school? I think that it can sometimes [take] you into an interesting direction.
The Looming Tower, Streaming Now, Hulu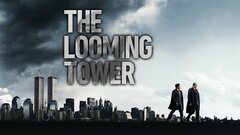 Powered by