'Counterpart': The Clare/Quayle Relationship Will 'Get Messy,' Says Nazanin Boniadi
[Spoiler Alert: Do not read ahead unless you watched episode 6 of Counterpart. Major spoilers ahead!]
The freshman season of Starz's alt-universe drama, Counterpart, has been full of surprises. From the joy of seeing Academy Award-winner J.K. Simmons play scenes with himself (as two versions of Howard Silk) to the ass-kicking awesomeness of Baldwin (Sara Serraiocco), the series has been all kinds of fun and compelling to watch, and last week's episode was no different.
Did anyone else see it coming in that end-of-episode reveal that Clare (Nazanin Boniadi) and Quayle (Harry Lloyd) are married? I know I didn't!
If you were scratching your head at this surprising development, you won't have to scratch for long, because Sunday's episode is going to answer some (not all) the questions that came out of that revelation.
See Also
In the penultimate episode of Season 2, we'll learn more about Randall and Beth's former foster daughter.
TV Insider talked to Boniadi about the reveal and got her to spill a little more about what we'll be seeing in Sunday's Clare-centric episode. Hold on tight!
Now that we know that Clare and Quayle are married, how does that play out in the coming episodes?
Nazanin Boniadi: You'll find out a lot more about who is she, why is she there. So all the kind of questions you have at the end of episode 6, all of a sudden Clare becomes clearer to the audience as to why she's where she is. Episode 7 is Clare's episode.
At this point in the series, how would you define her relationship with Quayle?
Contentious. It's gonna get messy and confusing for both of them. There was something in the beginning of the series with the question, 'Who was it that I married?' Those are the questions that become clearer in episode 7. Also, when you marry someone they're one person and then over the course of years, is this the same person I married? What happened to them? Why are you so different?
And I think those are questions that, again, link the show to everyday life. We can call the show an espionage drama and metaphysical twist, but it also deals with government transparency. These are the things that I love because it links to everyday questions that people have in life in a modern-day world.
My first thought was that Clare is also a mother, and that always makes a character more interesting and layered.
It changes everything and raises the stakes for Clare.
Overall, how was the role of Clare been for you? It's definitely gotten juicier with each episode!
It's unlike any character I've ever played before. I've done a ton of television, and I was waiting after Homeland to find something that I was deeply passionate about.
Counterpart has amazing diversity, both behind the scenes and in front of the camera, and it tackles issues that I don't think other TV shows really tackle about identity, about nature-versus-nurture, about all of that. The fact that it makes you think while being highly entertaining…and it never preaches.
Counterpart, Sundays, 8/7c, Starz.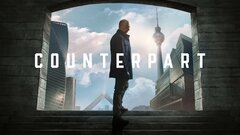 Powered by