'Counterpart': J.K. Simmons on His Approach to Playing Two Characters
Meet Howard Silk, a reserved, low-level employee in a Berlin-based U.N. agency so top secret he doesn't even know what they do until he meets…himself. That's not even the trippiest part of the new Starz sci-fi drama Counterpart, starring Academy Award winner J.K. Simmons (Whiplash) in dual roles.
The second Howard, a gun-toting operative oozing confidence, crosses over from a parallel universe to stop a kill order and enlists meek Howard in the mission. Simmons clues us in on the double trouble.
How do the two Howard Silks differ? The second Howard is initially annoyed with the first Howard.
J.K. Simmons: The first Howard is the kinder, gentler version who has spent most of his adult life being deferential. The second Howard is much more of an alpha. Much more of a man's man, a tough guy. Certainly, he's looking at this alternate version of himself who is a bit of a namby-pamby, a bit of an underachiever. He's definitely, initially, utterly disdainful of this other version of himself.
When the second Howard insists on Howard coming along on their mission, is that because he needs him or is he actually curious about this other version of himself?
I think it's both. I think there is an aspect of alpha male Howard that looks at what he views as a sort of pathetic version of himself and wants to bring him up to speed, wants to make a man of him or whatever, just for his own ego. I think largely that's what it's about, certainly at first.
How did you approach playing both characters? Did you see them as separate characters?
Yeah, as one character and then another character. When I was either playing a scene, or reading a new script, or preparing to play a new scene; it was always from that character's point of view. Then it gets complicated as we go along, but that's always and will continue to be, I think, always, unless there are twists that I don't know about. I'm sure there are. Each character is his own individual.
The physicality you bring to both Howards is very distinct. How did you go about working on that part of playing each role?
Having the luxury of that year and a half between first reading the script and us going into production and having all 10 of the scripts available, at least the bones of them, was very helpful in that regard. Kind of cemented to me what some of the differences initially would be between the characters, which are mostly psychological and emotional, but those things manifest themselves physically.
Was there a Howard that was more challenging or one that you had more fun with?
I think, because of the way the story starts, I identified with the first Howard and really viewed—even as the scripts kept coming and coming—I really viewed the world from his point of view. The second Howard was a lot more fun to play. He was that tough guy side that people like to, it's just fun to play with. "Boy, I wish I could be that ballsy, I wish I could be the guy that says this and doesn't give a damn what people think about it," instead of being the nice deferential guy who wants everybody to be happy.
When a job ends for you—film, stage or TV—do you let that character go, or would you like to go back and revisit some of them?
I feel like I move on to the next thing. Again, that's another interesting difference between being a theater actor and doing television and film, because you've moved on from a character, and this is different obviously because we're moving on and coming back, and moving on and coming back when you're doing a series that's going to work roughly half the year.
With a feature film, you do the work and you wrap the movie, then maybe you're doing a little ADR during the editing process. You're done with that, you've moved on. In my case, I'm moved on, I'm playing supporting parts here and there. I may do 6, 7, 8, 9 other jobs before the movie even comes out. Then it comes out, and then, "Okay, now we're going to talk about that." You kind of go back to that mindset. I feel like I just move on and put them in the past but I'm sure they're all like barnacles on my back somewhere that I'm not as physically aware of.
Here's a clip from the premiere where this side's Howard gives an ultimatum to his boss, Quayle (Harry Lloyd);
Counterpart, Series Premiere, Sunday, Jan. 21, 8/7c, Starz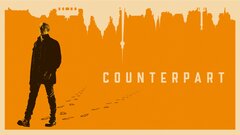 Powered by