WATCH: Amazon Reveals 'Jack Ryan' Super Bowl Ad, Series Premiere Date
On Tuesday, Amazon Prime Video dropped a first-look clip of the Super Bowl LII ad it will be running during the big game on Sunday, Feb. 4—the first-ever Super Bowl commercial for the streaming service—which shows a first look at the upcoming original series Tom Clancy's Jack Ryan.
With the mini-trailer, Amazon revealed that Jack Ryan will debut Friday, Aug. 31, in time for viewers to enjoy over Labor Day weekend. The action-packed series will see John Krasinski (13 Hours, The Office) as the title character, thriller author Tom Clancy's legendary creation who's previously been portrayed on the big screen by Alec Baldwin, Harrison Ford, Ben Affleck, and Chris Pine.
The 60-second ad is scheduled to air immediately following the Super Bowl halftime show. The promo focuses on the titular Ryan, and is set to audio from political figures in history, including John F. Kennedy, Bill Clinton, Donald Trump, George W. Bush, Barack Obama, and Ronald Reagan. It's all underscored by the iconic Bob Dylan song "All Along the Watchtower," performed by Devlin featuring Ed Sheeran.
"Given the colossal scope and scale of the series coupled with the popularity of Tom Clancy's novels, we knew Tom Clancy's Jack Ryan would be a natural fit for Prime Video's first Super Bowl ad," said Mike Benson, head of marketing for Amazon Studios, in a release. "The global nature of the audience provides us with a unique opportunity to give viewers a look at this thrilling new series coming to Prime."
Watch the sneak peek pf Amazon's Super Bowl ad for Tom Clancy's Jack Ryan below:
According to Amazon, the new series will be a "reinvention with a modern sensibility of the famed and lauded Tom Clancy hero" and will feature "an original storyline while still maintaining the fan-favorite characters."
The release explains that, over the course of the eight hourlong episodes, Ryan uncovers a pattern in terrorist communication. That then launches him into the center of a dangerous gambit with a new breed of terrorism threatening destruction on a global scale.
Along with Krasinski, Jack Ryan also stars Wendell Pierce (The Wire) as James Greer and Abbie Cornish (Three Billboards Outside Ebbing, Missouri) as Cathy Mueller.
Carlton Cuse (Lost) is an executive producer and showrunner. Also executive-producing is Mace Neufeld, who was a producer on the Jack Ryan feature films Patriot Games, Clear and Present Danger, The Sum of All Fears, and Jack Ryan: Shadow Recruit.
Tom Clancy's Jack Ryan, Available Friday, Aug. 31, Amazon Prime Video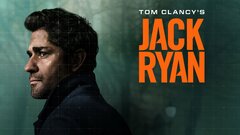 Powered by