'Real Housewives of New Jersey' Season 8 Reunion Part 2: A Distasteful Callback and Other Notable Moments (RECAP)
[SPOILER ALERT: This post contains spoilers about Part 2 of the Season 8 reunion of The Real Housewives of New Jersey.]
One of the most distasteful storylines in Real Housewives of New Jersey history at least produced one of my favorite reunion moments in RHONJ history. I'm talking, of course, about what Siggy Flicker so sensitively calls "the Hitler thing."
To recap: When arguing about whether Siggy and Dolores Catania should be friends with confirmed troublemaker Kim DePaola, Margaret made an accurate if hyperbolic and insensitive analogy involving Hitler to Siggy, the daughter of a Holocaust survivor, which led Siggy to label her an anti-Semite.
At one point late in part two of the Season 8 reunion, Siggy heatedly asks, "Kim D. build concentration camps?," prompting Teresa Giudice to break in, hands raised to the heavens, "We don't know! We don't know! We don't know!"
Among the other completely unsubstantiated rumors spread or re-aired in addition to DePaola being the secret architect of the Final Solution? First, that Kim is a madam. Or, as Teresa weirdly pronounces, a "mah-dam." "I am not a madam," Kim D. tells Teresa, "but I would have no problem being a madam." Second, courtesy of Dolores Catania, that Danielle Staub may be on drugs. Not doing rails of cocaine in the bathroom of Satin Dolls, mind you, but maybe some Xanax. Third, that Siggy is "compassionate and loving and kind." (That rumor was aired by Siggy.)
Here are the other major moments of the reunion:
Pot calling the kettle black, part one: Ex-con Teresa, whom federal prosecutors accused of filing fake W-2 forms and tax returns, questions Kim D.'s finances. "Your 1099s? Your W-2s? How do you pay for your Mercedes? How do you afford your house?"
Are you sure you want to go there?: After Siggy brings up Margaret's legal woes — she's being sued for copyright infringement by Vineyard Vines over her whale motif — Siggy says, "Everything I teach my kids not to be is her. Don't cheat. Don't steal. Don't copy other people's property." Um, Siggy, you do realize your good pal Teresa is sitting right next to Margaret?
Wholesale rewriting of history, video footage be damned: When Danielle objects to Dolores' accusations that she's on drugs, Dolores tells Teresa, "This why you threw a table at her. Because this is what she is: a professional victim." No, she threw the table at Danielle because Teresa is — or at least was — a spray-tanned and less emotionally stable version of Bruce Banner. TERESA ANGRY. TERESA SMASH.
See Also
Siggy Flicker and Margaret Josephs still hate each other, and Teresa Giudice doesn't assault anyone ... yet
Most unexpected moment: When Danielle walks off the set after tangling with Dolores, Teresa is the one who calms her down in the dressing room. "It's not true," she tells Danielle. "Don't give it any light."
Most honest moment: While Danielle is raving off-set, Dolores murmurs to Siggy, "I love to get her to this point." Ugly but honest!
Most unexpectedly honest moment that is almost immediately recanted: "Is it fair to say you do like to stir the pot?," Melissa Gorga asks Kim D, who responds, "I don't mind stirring it, no." Fast-forward a couple of minutes: "Listen," Kim D. says, "I'm not a troublemaker."
Pot calling the kettle black, part two: In the midst of the Kim D. segment, Siggy oh-so-briefly channels her Season 7 Zen persona and counsels the ladies to try to get along. Melissa, rather aptly, tells her: "Unfortunately, Siggy, you can't have your cake and eat it too."
Updates on storylines we stopped caring about nine episodes ago, if ever: Dolores and Frank Catania are still living together and are as close as a man and woman can be who used to have sex who are no longer having sex. Siggy and Michael Campanella are having a lot of sex thanks to her pellets, she's planning on moving down to Boca, and this empowerment guru decided to dial back on the career she loves because she loves her husband more, even though there is no evidence that her husband dials back on his career at all. And Marge Sr. is in all likelihood having more sex than Teresa.
The pot calling the kettle Hitler: Okay, I know that makes no sense and, in the World According to Siggy, that would make me an anti-Semite. (Also, I almost called this recap The Finale Solution. That's what this farkakte storyline has driven me to.) But I can't believe they're still relitigating this. We learn tonight that Siggy didn't say a word about being upset over the Hitler analogy until a full two weeks later, so Margaret was too surprised to immediately apologize. when Siggy brought it up in Italy. Siggy says Margaret had never met Kim D., so she has no basis for comparison to the man who killed six million Jews. Of course, that was not the point of the analogy, Siggy. Which does lead to us to my favorite exchange about Kim D. possibly being Hitler's unknown henchwoman.
Andy Cohen, who is Jewish, says he doesn't find the analogy offensive, and when Siggy says that Hitler's name rolled off Margaret's tongue, Andy shoots back, "Anti-Semite quickly rolled off your tongue." There's a short debate about whether it's worse to be called an anti-Semite or … to have the word Hitler brought up in hearing range of Holocaust survivors? I think you all know where I stand. Margaret points out that she apologized to Siggy, which for some reason leads to Siggy yelling "Shame on you" five times to Margaret. Siggy also says her father told her that Hitler's name should never be brought up in casual conversation but conveniently forgets that he also said she shouldn't have called Margaret an anti-Semite.
And then Siggy simply shuts it down. "I'm not talking about it. I'm not arguing about it. What you feel and you feel and you feel, I don't give a s**t." Spoken like a true relationship expert. Siggy's next book: How To Destroy Your Brand in 15 Episodes Or Less.
The Real Housewives of New Jersey, Wednesdays, 9/8c, Bravo. A special Reunion Secrets Revealed airs Jan. 31.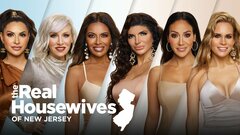 Powered by