'Superior Donuts' Star Diana Guerrero Teases Franco and Sofia's Budding Relationship
Doughnut shop worker Franco (Jermaine Fowler) has been just a little sweet on food truck owner Sofia (Diane Guerrero) since the moment she parked her healthy-eats rig outside the Superior Donuts store earlier this season on the CBS comedy Superior Donuts. But on January 15, jealousy really starts to get the best of him when she enlists a handsome old friend to help with a catering job. Guerrero fills us in on what to expect—and whether this means something could be brewing between Franco and Sofia.
Franco is clearly into Sofia, but how does she feel about him?
Franco definitely has a bit of a crush on her, and I think that Sofia is a mature enough woman to not be afraid of that. She likes having that little connection with him. But there is a friendship developing between Franco and Sofia because they are in the same age group—mostly everyone else [in their orbit] is older than them.
Does anything happen in tonight's episode to change that dynamic?
They are more open with each other. We are going to question conventionality and what terms could be used to describe a relationship.
Franco's boss, Arthur (Judd Hirsh), and Sofia got off on the wrong foot when she began selling food outside his shop. Has she managed to endear herself to him and the other Superior Donuts regulars?
She is very different from their group and at first that is sort of threatening. It has been a slow and steady acceptance. She and Randy (Katey Sagal) have a feminist connection. Sofia admires her for being a strong woman and choosing such a difficult career as a police officer.
Sofia is very career-oriented.
Yes she is! And she is trying not to let anything derail her, not any friendships or any relationships. I think that [as the season continues] you are going to find that she has stuff that she needs to work on. There are some things that she wants that she is not letting herself have.
Superior Donuts, Mondays, 9/8c, CBS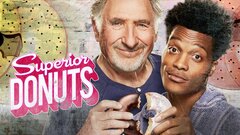 Powered by