'Superior Donuts': CBS Sitcom Serves Timely Topics Alongside Tasty Pastries
This morning, during the presentation of CBS' new sitcom Superior Donuts at the Television Critics Association (TCA) winter press tour, reporters found a number of impressively topped and very tasty-looking donuts (okay, they more than just looked tasty; I can attest to the fact that they were delicious). Donuts topped with Froot Loops and other cereals, and donuts using Oreo bits and white frosting to design panda bear faces, were among the highlights. But I digress.
RELATED: 2017 Winter TCA: TV's Biggest Stars Pose in Our Portrait Studio
When it comes to selling a show to critics, CBS probably figures you can't go wrong by putting them in a good mood with donuts. But apparently donuts were also part of the producers' opening invite to veteran actor Judd Hirsch in pitching him the lead role in Superior Donuts, which is based on Tracy Letts' 2008 play.
"They sent me a box of donuts," Hirsch said on the panel. He received the pastries while doing a play in the Berkshires and gave the donuts to the crew there. That opening approach intrigued Hirsch enough to look more into the project.
"That's how they pay Judd, in donuts," fellow panelist and costar Jermaine Fowler joked. For his part, Fowler admitted that he's a fan of donuts—but only glazed ones. He can't deal with sprinkles or "too much crap."
Hirsch, whose renowned TV acting history includes the likes of Taxi and Dear John, plays the owner of a small donut shop in a quickly gentrifying Chicago neighborhood. Fowler comes from a standup background and plays the shop's new and only employee. Katey Sagal (Married With Children, Sons of Anarchy, Futurama) returns to regular multi-cam sitcom work as a cop who frequents the shop (on the panel, Sagal said Hirsch told her she should do this role while they were both guest-starring on The Big Bang Theory as Leonard's father and Penny's mother).
RELATED: CBS's The Good Fight Drops F-Bombs and Plenty of Skin…But Only Online
Like the customers in the shop, Fowler said the show's cast "ate the s–t out of those donuts," with fresh ones being brought out frequently. Hirsch joked that viewers might notice a weight difference in cast members between episodes.
But Superior Donuts mines its laughs from more than just donuts. A watch of the first episode, and a reel clip at the panel, showed topics addressed in the show range from racial profiling and police violence to gun control. While the show's setting and characters lend themselves to themes like these, executive producer Garrett Donovan said, "this isn't going to be an 'issue of the week' show." If the subjects come up organically among the characters, Donovan said, the show would address them. "We don't have an axe to grind," he added.
Of course, not everyone may see it that way, and executive producer Bob Daily quipped, "if we were to take on a tweet war with the [new] President of the United States, we would not decline the publicity."
Superior Donuts, special preview Thursday Feb. 2, 8:30/7:30c; moves to regular time period Monday Feb. 6, 9/8c, CBS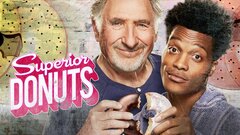 Powered by