Watch My Show: Tony Shalhoub on Amazon's 'The Marvelous Mrs. Maisel'
In the Golden Globe–nominated Amazon series The Marvelous Mrs. Maisel, Rachel Brosnahan plays Midge Maisel, a recently separated housewife who aspires to be a stand-up comic in 1950s New York. Three-time Emmy winner Tony Shalhoub costars as Midge's very proper father, Abe Weissman, and oy, if he only knew what his precious daughter was doing behind his back. "For Abe, a woman doing stand-up would be a step down from a prostitute," says Shalhoub. He tells us why Maisel deserves to be your holiday-break obsession.
I have time to watch one more show. Why should it be yours?
Here are three really good reasons. The extraordinary Rachel Brosnahan. The late-1950s setting, when Greenwich Village was really funky. Young Lenny Bruce [Luke Kirby] is a character! And it's just a sophisticated, gritty and sexy look at women moving out of the domestic setting and into the world.
Who should be watching this show?
People who love stand-up, period pieces and a female-driven story. And also people who love rapid-fire, smart dialogue.
What's an alternate title?
Landing on Your Feet, because Midge's life was devastated when her husband left—but because she was determined to succeed, she ends up in front of a microphone.
Give us an equation for your show.
Mad Men – a few years + Woody Allen's vintage films + the Coen Brothers' movie Inside Llewyn Davis.
See Also
From 1950s housewife to stand-up comedian, 'The Marvelous Mrs. Maisel' lives up to her billing in Amy Sherman-Palladino's witty new comedy
Complete this sentence: If you like watching ______, then you'll love The Marvelous Mrs. Maisel.
Gilmore Girls.
What's the best thing anyone's said about the show?
One critic called Midge Maisel a superhero. Not because she's fighting villains but because she's heroic in her quest for an identity in that time.
We know you love Mrs. Maisel, but if you could moonlight on another series, which would it be?
Stranger Things. Not only because it's fun and way off from what I'm doing now, but because my sister Susan [Shalhoub Larkin] plays the police department's secretary on it.
You're currently playing a music conductor on Broadway in the hit The Band's Visit. What musical would you like to do in a television remake?
I'm insecure about my singing, so maybe My Fair Lady. I could really talk-sing that one!
The Marvelous Mrs. Maisel, Available now, Amazon Prime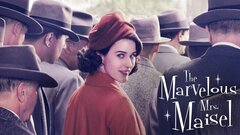 Powered by