Roush Review: 'Mrs. Maisel' Is Marvelously Enjoyable
Can she talk? Just try stopping her. We first meet The Marvelous Mrs. Maisel—first name Miriam (but call her "Midge") Maisel—when she's causing a panic at her own wedding with an off-color toast. From that moment on, we know we'll be hanging on every irreverent word from this Upper West Side cutup.
As the latest glib, quick-witted muse of Gilmore Girls creator Amy Sherman-Palladino, Rachel Brosnahan brings a pert, madcap intelligence to this decidedly unorthodox late-1950s Jewish housewife. We instantly get why she's chagrined when she discovers that her husband, Joel (Michael Zegen), a working stiff who aspires to a stand-up comedy career, has "borrowed" his material.
Because Midge is, first and foremost, an original. Also a natural.
The Marvelous Mrs. Maisel lives up to its billing with a wonderfully fresh attitude, lovingly capturing a conformist period vibe­—women who fix their faces before their husbands rise from bed—that Midge will go on to challenge in her art. The series truly begins when her marriage suddenly ends and she impulsively takes the stage of a bohemian downtown club, guzzling kosher wine, to vent with a torrent of shockingly blue humor.
"This is not great stuff. This is my life falling apart," Midge tells gruff admirer Susie (veteran scene-stealer Alex Borstein), who yearns to be the manager of a comic talent she sees as the next Mort Sahl—because Joan Rivers, an obvious inspiration for this character, hasn't arrived yet. (Although there is an oblique reference to bawdy pioneer Rusty "Knockers Up" Warren.)
While rubbing shoulders in and out of jail with the cutting-edge hipster likes of Lenny Bruce (a wry Luke ­Kirby), Midge initially keeps her new vocation a secret from her rigid parents (the ever-terrific Tony Shalhoub and Marin Hinkle). What happens when the marvelous Mrs. Maisel's worlds collide promises to be a culture clash for the ages.
Note to Midge: This is great stuff.
The Marvelous Mrs. Maisel, Series Premiere, Wednesday, Nov. 29, Amazon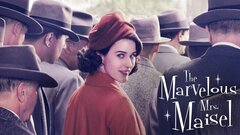 Powered by