'Real Housewives of New Jersey': Wait, That's How You Spell 'Posche?' (RECAP)
I bet there was real money made on tonight's Real Housewives of New Jersey — by the cadre of lawyers undoubtedly hovering just out of camera range at the annual festival of slander and attempted assault otherwise known as the Posche fashion show.
"Okay Teresa, you can shove the chair, just not at anyone." "I know you want to, Tre, but do not throw the glass." "Kim is leaving the room? Okay, now you can screech, 'Come at me, bitch!'"
There's an oh-so-fine line between hot-tempered hijinks and probation violation, after all. You know who else picked up some extra change? The producer responsible for Teresa's line, "You know what Posche stands for? Piece Of S**T Coke Whore Homewrecker Everyday." Because you know Teresa can't spell 'Posche.'
But I have to say, as far as Posche parties go, this one was pretty tame. No stripper allegations. No weave-yanking. No stilettos to the forehead. And by the end of the episode, peace had been restored between Teresa and Siggy Flicker, if not between Tre and Dolores Catania.
See Also
Season 8 of 'Real Housewives of New Jersey' finally moves beyond cake and silly nicknames with a battle royale brewing between Teresa Giudice and Dolores Catania.
At the beginning of the episode, Melissa Gorga is recounting to Joe the fight the previous night at Montclair's Fresca da Franco, in which Siggy and Dolores revealed that they were walking in the fashion show and, oh yeah, Kim D. says Teresa is having an affair with an old boyfriend. Teresa predictably flipped out, and Melissa reminds Joe (and us) that Teresa joined forces with Kim D. in the Season 3 finale to out Melissa's alleged stripper past. "I think now she sees I was right about Kim," Melissa says, with a touch of self-righteousness. Fair enough.
Siggy and Dolores show up early at North Bergen's Waterside event venue, where the fashion show is taking place. Kim D. greets them, and they tell her about the previous night's antics. "Everyone hates you so much they were bashing you from left to right," Siggy says.
Kim D. reveals that her hairstylist Lina is the source of the Teresa cheating gossip. Lina claims she saw Teresa and a guy snuggling at a club, but Siggy and Dolores don't believe her. Kim D. pushes back: "I've heard that she's done with Joe anyway, so what's the big freaking deal?" Siggy and Dolores aren't biting, and Kim D. retreats.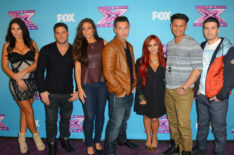 See Also
GTL, all day long.
The rest of the ladies, aka Charlie's Angels Plus One, gather at Melissa's house, where Danielle Staub seems to have come down with a case of selective amnesia. At the last Posche fashion show she attended, Danielle tells us, "I got chased from that event and my hair pulled … [Kim D.] is a piece of sh*t." If my memory serves, Teresa is the one who chased Danielle screaming through the North Jersey Country Club. That's like blaming your bankruptcy lawyer when you're accused of conspiracy to commit wire and mail fraud … oh, wait.
My other favorite observation from this scene: Teresa telling us, "If someone doesn't have anything nice to say, they shouldn't open their mouths." Coming soon to Bravo: Real Housewives of Mime University.
Teresa and Co. arrive at Waterside, and there might as well be a record scratch when they walk in the door. Kim D. recovers quickly, cheerily greeting them. Dolores and Siggy appear to be frozen in place. Finally Teresa tells Kim D. that she wants to talk to her. Kim D. is unflappable: "Are you all going to talk at the same time, or are we doing one-on-one?," and when Teresa asks why she's spreading rumors about her, Kim D. says, "Because I feel like it. Because I feel like it."
Teresa calls Kim D. a "dirty bitch," and Kim D. tells Teresa and her coterie, "You're all dirty bitches." Points for accuracy so far. Teresa then threatens to straighten Kim D. out, and Kim D. shoots back, "Nobody straightens me out." Teresa calls her white trash, and Kim D. one-ups her: "You're white trash. You're the one who was in f*cking jail, not me, bitch."
Advantage, Kim D.
Teresa looks like she's going to explode, and Kim D. warns her, "If you throw something at me, girl, you're leaving in handcuffs." Teresa unleashes her carefully rehearsed Posche rejoinder, and the homewrecker comment actually seems to shake Kim D. up a bit. "You don't want to go there with me," Kim D. says. Teresa: "Let's go, baby. I'm here."
Kim D. gets up, shoves her chair in Teresa's direction and starts to retreat. Teresa shoves the chair back and then looks around for her drink as if to throw that too, but seems to think better of it. "You don't f*cking touch me," Kim D. tells her. Teresa yells, "So come at me, bitch," as Melissa tries to reign her in. Kim D. walks out of the door.
Teresa is pleased with her performance. "I set Kim D. straight tonight. Whatever Joe and I go through, it's nobody's business." Bravo then brilliantly underscores the fallacy of that statement by rewinding the Greatest Hits of Joe Giudice, Mean Drunk Felon Husband.
But wait! The drama is not over!
Melissa turns on Siggy and Dolores and asks them how they can walk in Kim D.'s fashion show after that "disgusting" display. Dolores gets right up in her face and says, "Yes, I am. That's right I am. Don't tell me what to do!"
Um, she didn't.
Melissa tells her to back off and once again calls her Switzerland.
Dolores and Siggy are sticking to the "It's for charity!" defense. Teresa tells them that they're Kim D.'s puppets as she and her crew storm out.
The next day, Dolores, Frank and Siggy are rehashing the events over pizza. Amazingly, Siggy blames Margaret and Danielle for … well, it's not very clear. But Frank tells them he can see it from Teresa's point of view, that supporting Kim D.'s fashion makes it seem like Dolores and Siggy are supporting Kim D. (Because they are.) Dolores and Siggy seem a bit chastened. Frank Catania, voice of reason.
Meanwhile, Joe has decided to invite a medium named Concetta to his house to see if she can commune with the spirit of his late mother Antonia. As one does. Concetta tells Joe, Teresa and Melissa that Antonia is at peace, and shares what appears to be accurate and meaningful details about Antonia's last days. She also tells them that Antonia is terribly worried about her husband Giacinto, who says he wants to join his wife. "Tell him, 'Don't be in a hurry, somebody we will be together again,"' Concetta says.
Admit it: That last bit got you a little weepy too.
Later, Siggy shows up at Teresa's house, and they're surprisingly amiable, considering. They both apologize — Siggy first, of course — and Teresa asks, "Do you see what I'm talking about with that lady?" Siggy does. "I defended you. I defended your family. What she said was disgusting and below the belt." But, Siggy continues, she made a decision to support Kim D.'s charity.
And then Siggy brings the real reason for her visit: to tear down Margaret and Danielle. "We want you to wake up," Siggy tells Teresa. "We feel like when you are with Margaret and Danielle, we can't even talk. They are up your ass."
See Also
The entrepreneur claims she's a little TMI at times.
Siggy complains about Margaret's Hitler allusion last episode (which I thought was pretty on the money), saying that Margaret is "missing a sensitivity chip" (which is also pretty on the money). "Do I hate her? I'm just, like, over it." Doesn't sound that way from this side of the TV screen.
Teresa tells Siggy she appreciates her coming by, and Siggy drops one more bomb: She's not going to Milan without Dolores.
Teresa calls Melissa to report on the visit. Melissa says she's not going to rescind Dolores' invitation, but she's still shocked that Dolores confronted her so obnoxiously at the fashion show. "I'm telling you, Tre, she is on my sh*t list."
Next week, Italy! No one ever feuds there!
The Real Housewives of New Jersey, Wednesdays, 9/8c, Bravo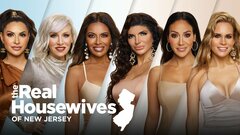 Powered by