Newbie Margaret Josephs on How She Fared on 'Real Housewives of New Jersey'
On The Real Housewives of New Jersey, it is not uncommon to see grown women behaving like toddlers. So it's only fitting that the new addition to Season 8 of Bravo's docu-series, 50-year-old Margaret Josephs, arrives on the scene sporting pigtails. Here, the married entrepreneur—she's the founder a global lifestyle brand—reveals whether she'll be playing nice.
So, tell us about the hairdo!
I wore pigtails as a little girl. I started again in my early thirties—and I realized that it worked for me! In business meetings, people found them charming and disarming, because my personality can be intimidating.
Do you or your hubby, Joe, have any reservations about putting your private life out there?
I'm an open book. Joe says I'm very TMI anyway. He's my second husband, and we're soulmates and complete opposites: I'm always in high heels, he's a Harley-riding contractor. I call him my rough, tough cream puff!
How'd you fare with the ladies?
Melissa [Gorga] and Teresa [Giudice] embraced me immediately. Meeting [returning Housewife] Danielle Staub was scary, but I think she is misunderstood. Siggy [Flicker] wanted to love me, but some people can't take my snarky comments—and Dolores [Catania] is her best friend.
You'll be ruffling some feathers, then?
Before doing this, I thought, "What could adults fight about?" But it can happen! I'm pretty sarcastic, and not everyone takes well to that. I find myself hilarious, but I'd look around and see faces in shock and be like, "You don't think I'm hilarious."
You're a nondrinker, which is an anomaly around these wine-lovin' parts…
I've tried drinking, but I get horrible migraines, and I'm naturally funny and crazy, so I don't need alcohol to let loose. I think it's worked to my advantage on the show, because I can remind the girls of what they've said!
The Real Housewives of New Jersey, Season Premiere, Wednesday, Oct. 3, 9/8c, Bravo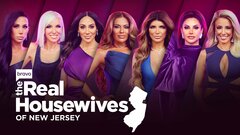 Powered by