Get Ready for a Shocking Cliffhanger on 'The Gifted's Midseason Finale
Things are about to go from bad to worse for teen mutants Andy (Percy Hynes White) and Lauren (Natalie Alyn Lind) on Fox's sci-fi thriller The Gifted.
The siblings recently learned that their great-grandpa was a terrorist and their grandpa managed to genetically suppress their father's powers.
In tonight's fall finale, they will end up in grave ­danger—and it's up to their parents, Caitlin and Reed Strucker (Amy Acker and ­Stephen Moyer), to save them. Mysterious telepath and refugee mutant Esme (Skyler ­Samuels) may be important to their rescue, but let's just say her methods and her motivation for helping out could end up being more than the Struckers ­bargained for. Much more.
See Also
Get to know Eclipse, Blink, Polaris and Thunderbird.
"Nobody is simply a villain or simply a hero [on this show]," executive producer Matt Nix warns. "You get all of these people that in some way share the same goals. But they disagree on how to pursue those goals and how best to protect the people they love."
Whatever goes down in the rescue attempt, expect lots of fallout from a shocking cliffhanger when the series returns in January. Says Nix: "I really wanted to leave people with the feeling that they desperately need to see more of The Gifted."
The Gifted, Midseason Finale, 9/8c, Fox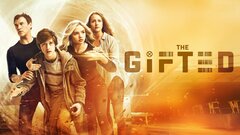 Powered by