Fox's 'The Gifted' Will Address Polaris's Mental Illness
The Gifted's cast and executive producers stopped by New York Comic Con on Sunday to give fans clues about what's coming up for the new ABC series, which follows a family with two mutant children who go on the run from a dangerous and unaccepting government.
During the hour-long panel, the cast talked about what makes their characters unique and why the show is such a different addition to the X-Men universe.
"One of the things that I think I felt really attached to was the audience gets to see the family dealing with this situation," Stephen Moyer said. "I think that's what Anna [Paquin, his wife and X-Men star] was really taken with when she read the script for me."
Moyer and Amy Acker's characters—the parents of two mutant kids—are originally not the most pro-mutant folks out there, which leads to a conversation about social justice. "I think the show does a really good job of making you question your complacency and your beliefs along the way," Acker explained.
See Also
Get to know Eclipse, Blink, Polaris and Thunderbird.
But being a mutant is definitely not the worst thing that could happen in this world. For Andy (Percy Hynes White), it's actually quite exciting. "His whole life has been striving towards having an identity," White says. "He's always trying to be special. And so once his powers emerge, he really finds himself and he's really happy to have powers and be somebody."
Sometimes a mutant's powers aren't all that makes them unique. Emma Dumont was quick to note that The Gifted plans to address her character Polaris' mental illness, staying true to the comic book origins.
"As a lot of people know, Polaris is old; she's from 1968, and a big part of her identity is her mental illness," Dumont says. "She's untreated, unmedicated and has this mental illness. You will see her have very high highs of manic behavior and low lows of depression." She later added: "She's not just the crazy girl … But now I think we're showing her the respect that she deserves and taking her seriously."
The Gifted, Mondays, 9/8c, Fox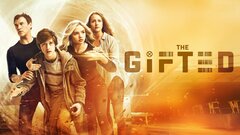 Powered by