Holiday Preview: Michael Weatherly Unwraps 'Bull's First-Ever Holiday Episode
Michael Weatherly looks ridiculous. The Bull star just emerged from the dressing room at his 12th TV Guide Magazine cover shoot wear­ing a brown tweed sport coat over a maroon turtleneck and matching slacks. It's an outfit best described as "1960s dad"—and it's tight in all the wrong places. He couldn't ­appear less sexy or more undignified, but it's hard to tell if he cares. That's the amazing, terrific thing about Weatherly: He probably doesn't. He's game. He doesn't complain. He laughs off mistakes. He makes other people feel good. If it seems naive of us to dismiss this as an act, then so be it. Maybe we're just in the holiday spirit.
Later, the photographer's assistants give him candy canes to put in his mouth like cigars, tie a gold ribbon around his neck and wrap him in a string of twinkling holiday lights. Again, he's game. He's also pretty thankful. The 49-year-old actor, who starred as NCIS's jokey Special Agent Anthony DiNozzo from 2003 to 2016, is married and has three healthy kids. His CBS drama Bull—on which he plays a trial consultant—is still a hit in Season 2. And he's got a new partner in showrunner Glenn Gordon Caron (Moonlighting), who's made the procedural darker and more substantial. Goodbye, silly plots featuring poisonous dresses; hello, storylines about fatal frat hazing and assisted suicide. The December 12 holiday episode is no different, focusing on a 9-year-old girl (Annabelle Wachtel) who wants to sue her negligent parents for divorce.
Recovering in a bar after the four-hour shoot, Weatherly excitedly talks about the show—and life. Can things get any better? Well, he is spending his holidays in Jamaica, so…
What makes you so easygoing—and unselfconscious?
Everyone has a job to do, right? I never think about how something's going to make me look. As long as it isn't totally idiotic or could embarrass other people, I'm an all-in player. Also, I'm 49 years old. I watch golf. I'm not asking for people to think I'm cool. If you look back [on my time in Hollywood], it never happened for me like that. In that way, I'm different. Bull is…cool. Bull is an extremely intelligent contrarian who relishes human behavior the way vampires relish scantily clad women. He sleeps on his couch. He drinks too much. He's clearly lonely and has a hard time making connections because he can already see how everything will end. He's afraid that he's not done building himself and his business, but also that at a certain point he'll look up and think, "You were waiting for the perfect time to have a relationship, to have a baby, and now you're 50." This season, we've really taken down his cool façade. He's not bulletproof.
See Also
An insider's guide to the rooms (court and otherwise) of Michael Weatherly's hit drama.
Is that why he's so drawn into helping the little girl in the holiday episode?
Yes, Bull is watching this father who's not connecting with his daughter, and he becomes angry and judgmental. But he's really mad at himself because of his own lack of appreciation for the important things in life. At the end of the episode, he goes to the little girl's apartment dressed as Santa. She hugs him and whispers, "I know it's you, but my dad still believes and I don't want to spoil it." She's kind of bulls–tting him, but it's gooey and cute.
How did you feel in the Santa suit?
Well, as a ­costume, it has its limitations. [Laughs] After he leaves the kid, he takes off the hat, beard and glasses and see's a very attractive woman dressed as an elf. He says, "Nice look," and she replies, "Back at ya," as she's walking by. And then he stops. Just when he was feeling good about himself, he realizes that he objectifies women. I like that idea.
Why?
I like that he's so different from DiNozzo. Bull is so much more grown up than NCIS. As awesome as that show was, all the characters were stuck filling the same role. Gibbs [Mark Harmon] could never be taken down the way Bull is. I mean, when you yell at subordinates like Gibbs does, you should apologize. When you hit someone in the head, you should apologize.
See Also
The team's latest case deals with the culpability of a self-driving car and it's inventor.
What are your holiday plans?
We're going to ­Jamaica. I have a very big birthday next year. I'm going to be 50, so I'm very excited about it. Roger Moore, who I love, made The Spy Who Loved Me when he was almost 50. So it's a good place. I'm actually happy that I'm never going to be young again. For all the money in the world, I wouldn't go back. No thanks.
Really? You wouldn't want a do-over?
I've lived a great life and if anything happens to me, TV Guide has this in the bank: I've had a wonderful time and I've met some wonderful people. I'm not sure how important any of it was—it may all amount to ­nothing. But I've been having a ball. And in the event that something does happen, I was probably ­laughing, if it makes you feel any better.
Check out this hilarious behind the scenes video from the photoshoot:
Bull, Tuesdays, 9/8c, CBS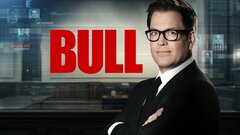 Bull
where to stream
Powered by