5 Things to Know About the Second Season of 'Bull'
Bull is like a series of hot dates. Season 1 introduced trial consultant Dr. Jason Bull (Michael Weatherly) and focused on how he uses psychology, high-tech gadgetry and old-fashioned detective work to help clients sway juries. Season 2 goes deep into his personal life, asking the big questions, like "Why can't Bull keep a girlfriend?" Who knows, Weatherly might even take his pants off next. Just kidding: He did that already! We got executive producer Glenn Gordon Caron to (kiss and) tell about the show's second season.
1. Lines will blur. Bull and his team won't always be on the "right" side of a case—that's if there is one. This season, they'll assist a teen who's charged with murder after helping his terminally ill girlfriend kill herself. But not everybody is on board. "The cases are important," says Caron. "But the season's center is how the team responds to them, what's going on in their lives at the time and how those ping-pong off each other."
2. Some TV favorites show up. The premiere features Friday Night Lights' Minka Kelly as a trophy wife who slays her septuagenarian husband. Bull's former romp Diana Lindsay (Jill Flint) returns as her attorney. And later this season, Everybody Loves Raymond's Brad Garrett plays a legendary lawyer who's hired to defend Bull.
See Also
'The Big Bang Theory,' 'NCIS,' 'MacGyver' and 'Hawaii Five-0' also among the series that will return.
3. Bull is on the defense. Yes, you read that right. The consultant becomes the reluctant consultee when Bull is taken to court.
4. The truth gets out. We'll learn how Bull's employees—hacker Cable (Annabelle Attanasio), lawyer Benny (Freddy Rodríguez), neurolinguist Marissa (Geneva Carr), ex-cop Danny (Jaime Lee Kirchner) and fashion expert Chunk (Christopher Jackson)—really feel about him via stories that explore their lives. "It's gotta be a challenge to work for Bull," Caron says. "He's a bit tone deaf to the effect his conduct has on others.
5. Hearts will open. It's time for Bull to face his perpetual bachelorhood. "He's capable of tremendous charm," Caron says. "He's in his 40s. He's single. He clearly adores women. Why can't he find a place in his life for a continued relationship?"
Bull, Returns Sept. 26, 9/8c, CBS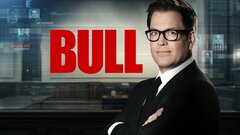 Bull
where to stream
Powered by