Samantha Bee Wants Alabama to Prove Yankee Liberals Wrong (RECAP)
This week, Republicans finally began urging Alabama senatorial candidate Roy Moore to step aside as more women have come forward with allegations of predatory sexual behavior—a.k.a. creepin' on teen girls when he was in his 30s.
But as Samantha Bee pointed out on Wednesday night's Full Frontal, the only people who can truly rid us of this scumbag—who was twice removed from office for flouting the rule of law—are the people of Alabama. And so far…they're not exactly stepping up.
"I can scream about Roy Moore all day, and I have," the Full Frontal host said. "But it won't matter if his own neighbors keep making excuses for him. Each community has to kick out its own creeps."
And as Bee points out, that goes for the left as well. The so-called "liberal media" may have exiled Harvey Weinstein and Louis C.K., but we for sure still need to reckon with the fact that R. Kelly is still a thing and Mel Gibson is currently bro-ing out with Mark Wahlberg and Will Ferrell in Daddy's Home 2.
So, Bee wants Alabama voters to prove they're better than liberal, sex-crazed Hollywood by voting against Moore in the state's December 12 special election. The deadline to register is November 27.
Check out the clip below: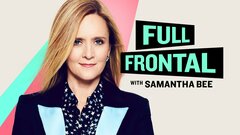 Powered by