Samantha Bee: Ivanka Trump May Be the First Woman Elected President
At Tuesday night's "Full Hour with Full Frontal's Samantha Bee" event at the New York Comedy Festival, the late-night host shocked fans when she suggested that Ivanka Trump might eventually be America's first female president.
The comment, which elicited gasps from the audience, came in response to a question about whether Bee thought she would see a woman elected to the nation's highest office within her lifetime.
"I feel so sad that you asked me that question, because I'm gonna give you my honest answer, and its gonna ruin everyone's night," Bee said at the event, part of TBS's lineup at NYCF.
In the as-advertised hour-long conversation at New York's Public Hotel, Bee and host Ana Gasteyer chatted about a wide range of topics, from Gasteyer's obsession with yogurt making and Bee's inability to throw away old medication to the importance of diversity in the writers room of the only late-night show on TV hosted by a woman.
"It makes the show what it is," Bee said of the diversity of her writing staff on the Emmy-winning Full Frontal. "The show just literally wouldn't be the same."
RELATED: Subscribe To TV Insider's Full Frontal With Samantha Bee Newsletter
Gasteyer was also interested in how, as a feminist, Bee approaches covering the women in the Trump administration. "How far are we allowed to make fun of Kellyanne Conway and Sarah Huckabee Sanders?" she asked.
"I have respect for what she's accomplished," Bee said of Conway. "It's not what I would wish for. But she has accomplished a great deal." Both Gasteyer and Bee seemed to agree that Sanders was "too sad" to make fun of.
Of the White House more generally, Bee said she imagines "a lot of seized bowels."
"I'm gonna send them a giant box of my homemade yogurt," Gasteyer joked. "Probiotics will really save the day for them down there."
Gasteyer also touched on the current wave of accusations of sexual assault and harassment against powerful men in the entertainment industry. "The comedy community at large is in panic," Gasteyer admitted, "because the rules are so different in comedy writing rooms, and the things that people find acceptable are so unacceptable." She went on to recall a particular SNL castmate sticking his penis through a photo of the show's creator Lorne Michaels, and other questionable behavior.
When asked how she deals with the constant onslaught of troubling news—and having to turn it into comedy—Bee said she takes comfort in the people she works with. "We're literally all experiencing that together," she said, "Which is the only thing, truly, that gives me hope and makes me feel somehow better, that there is a community of very worried people around me at all times."
Full Frontal With Samantha Bee, Wednesdays at 10:30/9:30c, TBS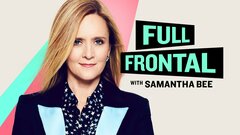 Powered by