'Real Housewives of New Jersey': 'But She Does Yoga!' (RECAP)
A Retreat to Remember
Season 8 • Episode 7
Dolores choked.
I know from watching the scenes from the rest of the season of The Real Housewives of New Jersey that tensions will boil over at some point between Teresa Giudice and her longtime bestie Dolores Catania — and that point can't come soon enough for this Cakegate-plagued recapper— but when push came to shove, Dolores couldn't bring herself to really dig into the perennial rumors about Teresa's husband Joe cheating on her while she was in prison. You know. Because of Joe.
In Dolores and Teresa's first one-on-one meeting since Danielle Staub claimed that Dolores trashed Teresa behind her back, Dolores tiptoed right up to the line. Annoyed at Teresa for not immediately dismissing Danielle's claim and still seething over Danielle needling her about her unconventional live-in (but apparently no lovin') relationship with her ex-husband Frank, Dolores kinda-sorta-maybe insinuates that, unlike Teresa, she didn't want to stay with an unfaithful husband.
"Are you trying to say that he cheated on me?" Teresa asks.
"I didn't want to put up with what you put up in your relationship," Dolores says, taking a long drink and then (figuratively) chokes, saying she never saw Joe cheating on Teresa. She does go on to call Joe "a lot of work," and that Dolores "wouldn't stand by somebody who got in trouble and they took it out on me, they are nasty." Teresa huffs, "You don't have to worry about that. I can handle my own husband." Calm returns, and Dolores says soothingly, "You deserve all the respect in the world."
Meanwhile, Dolores tells Teresa that Danielle is either crazy or just trying to put a wedge between them. Actually, there's a third option: "I think she does drugs. Maybe she's on medication for being crazy. She's pathological." Teresa: "But she does yoga, and, like, she's so spiritual." Jeremy Piven does yoga. No one is mistaking him for the Dalai Lama.
Teresa eventually gives Dolores the least reassuring reassurance ever, telling her that "if I had to decide, I'm telling you I would believe you over Danielle." Actually, Teresa, Dolores is asking you to decide.
Dolores heads over to Siggy's house, where she is recovering from her hormone therapy with ice cream sundae therapy. Siggy is still mooning over husband Michael's Joe Gorga-esque ultimatum that she slow down her speaking engagements, and yet she decided to move forward with her plans for an overnight retreat for women seeking to … I don't know, become their best selves through plastic surgery, soft-focus photography and T-shirts emblazoned with nonsensical slogans ("Soggy Flicker Heart & Soul"). She invites all the ladies, of course, to a test run of the concept at Crystal Springs Resort.
The next week, Teresa, Danielle, Dolores, Margaret Josephs and Melissa Gorga pile into a van for the trip to western New Jersey, and Margaret shows off a recent Instagram post from an exceedingly airbrushed Siggy  taking aim with an arrow with a trying-to-be-fierce caption that includes, "The last thing you want is me hating on your ass." Empowerment, indeed. Margaret worries that Siggy is gunning for her.
At the opening session, there is a lot of feel-good blather about living one's authentic self and surrounding yourself with positive people (bwah-ha-ha on both counts), and then Siggy starts to talk about how she is struggling in her relationship with one particular person who shall not be named (jazz hands Margaret jazz hands). "You have a right to stand up and say f*ck you," Siggy tells the crowd. (Crowd? Yes, I'm being generous here. Bravo got pretty creative with camera angles here.) Margaret, Teresa and Melissa can't believe Siggy is using this opportunity to attack Margaret, and even Dolores starts to look uncomfortable.
But then Siggy takes a sharp right turn, calling out Margaret by name but explaining that her reaction to Margaret's cheeky "Soggy Flicker" joke was so grossly out of proportion because she was always bullied about her name growing up. "I'm a relationship expert, but guess what? I have issues," Siggy says. Margaret tells us that Siggy was brave to share her story, and that she never would have called her Soggy if she had know her name was her Achilles' heel.
After the session, Teresa tells Danielle that, again, if she had to pick who is telling the truth (aka if she had to pick who isn't the scumbag liar), she'd pick Dolores. "But only because of your relationship to her, not because you actually believe her," Danielle says. That's rather smug, considering Teresa has been friends with Dolores for more than 20 years and that Teresa has, on more than one occasion, attempted to inflict grievous bodily harm on Danielle.
But Teresa's memory apparently only extends to the beginning of the most recent RHONJ shooting schedule. "It crossed my mind that she is trying to start some trouble," Teresa tells us, "but she has had my back since the day she came back into my life." You know who doesn't have Dolores' back? Teresa. She tells Danielle that she is still going to be friends with her, but oh yeah, Dolores thinks Danielle is on drugs.
In a shocking twist no one saw coming, Teresa briefly and probably unwittingly advances some elementary feminist theory by pointing out the irony at the heart of Siggy's retreat: "Siggy says 'Know what you're worth,' and then she has a plastic surgeon or whatever?" Whoa there, Germaine Greer. You don't want Melissa's head to explode.
At dinner, Danielle confronts Dolores about telling Teresa that Danielle is on drugs. I love Dolores' response: "Are you?," she asks nonchalantly, still chewing. Danielle: "No." Dolores: "You were making stuff up that I said." Melissa and Margaret are outraged by Dolores' behavior, which, I think we can all agree, is fairly tame by Strippergate standards. We do get a delightful interlude of the Greatest Hits of Danielle Staub: Mug shot! Kidnapping! Colombian cartels!
Danielle insists that she has "absolutely nothing malicious" planned for Teresa, but Teresa tells us that once Dolores' mind is made up, there's no changing it. Dolores and Danielle trade a few more insults before a temporary detente is reached. Siggy, of all people, tell us that Dolores should have taken the high road with Danielle.
The next morning, Siggy ropes the women into a conflict resolution session. First up: Siggy and Margaret. It starts off okay, with Siggy reiterating how hurt she felt about being called Soggy, but when the women have to role play as each other, everything goes off the rails. Margaret, playing Siggy, starts fake-sobbing about the cake and wailing about Siggy's soon-to-fly-the-coop son Joshua, with Siggy shooting daggers at Margaret throughout.
You know what Teresa always says, Sig: If you can't take the cake, stay out of the kitchen. Or something like that.
The Real Housewives of New Jersey, Wednesdays, 9/8c, Bravo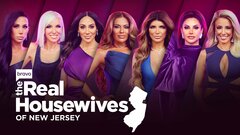 Powered by