'Real Housewives of New Jersey' Recap: Hormones and Hissy Fits
I have a feeling I'm going to deeply regret typing "butt pellets" into my Google search engine, but these are things I do for The Real Housewives of New Jersey.
Yes, Siggy Flicker finally underwent hormone therapy for her raging mood swings, so let's all pray that we have now heard the last of Cakegate. (Don't count on it.) And while Dolores Catania refused to acknowledge to Margaret Josephs that Siggy might have been acting a wee bit unstable—I haven't seen stonewalling this magnificent since, well, Sarah Huckabee Sanders' last press briefing—Margaret's revelation about her own family troubles bought her some sympathy and a new understanding from Dolores, and by extension, Siggy.
That said, the episode was low on drama and high on filler, although the groundwork is being laid for the inevitable battle between longtime besties Teresa Giudice and Dolores. Dolores is still angry about Danielle Staub needling her about her relationship with her ex-husband (and platonic roommate) Frank, and the fact that Teresa seemed to agree with Danielle. "Frank has treated me with more respect than Joe Giudice has ever treated Teresa on a good day," Dolores says. (Well, he hasn't called her the C-word on camera, that's for sure. Or, oh yeah, landed her a year-long prison term.) Siggy tries to defend Teresa, but Dolores cuts her off: "I don't care. She's gonna attack my family life? I don't care."
See Also
Who needs tables when you've got hyperbole? The RHONJ ladies tangle again at a tasting event at Joe, Melissa and Teresa's new restaurant
Have to say, looking forward to this one. As we've seen in the last couple of episodes, Dolores is not afraid to get in someone's face. I will gladly hold her earrings.
Meanwhile, Margaret talks over the Siggy situation with her mother, Marge Sr., two words that I always delight in typing. Margaret says that she doesn't judge Dolores for her unconventional relationship with Frank, and Marge Sr. suggests Margaret have a talk with Dolores. Dolores agrees, with some wariness, to a chat: "Since you are close with Melissa and Teresa, we have to have some degree of civility." (We do? Are we watching the same television show?)
Teresa is packing the family for their trip to Puerto Rico, including Giacinto Gorga's Speedo. Sadly, we do not see the elder Gorga modeling the bathing suit. Poolside, Teresa gets a call from Danielle, who is eager to complain about Dolores' behavior at the tasting party. Which is ironic, because Danielle is the one who completely escalated the situation. Teresa tells Danielle that she also took some incoming fire from Dolores at the party. "Danielle is always checking up on me," Teresa tells us. "Dolores, not so much." Guess the 25 previous years of friendship just doesn't hold up to a couple of yoga sessions.
Time for Dolores and Margaret's lunch at yet another all-but-empty Italian restaurant, where Dolores and Margaret discover they have very different definitions of psychotic break vis-à-vis Siggy. Margaret calls Siggy irrational and unhinged. Dolores: "She's animated." You know, like in Walt Disney's adaptation of Whatever Happened to Baby Jane?
See Also
On tonight's RHONJ, Danielle Staub stirs the pot and incurs Dolores Catania's wrath, but we're keeping an eye on the brewing resentment between Teresa Giudice and sister-in-law Melissa Gorga.
Dolores insists Siggy was just coming to her defense after the other ladies starting questioning Dolores' relationship with Frank. Margaret tells Dolores that she actually defended her for maintaining a good relationship with her ex, and Dolores reveals that it was very lonely and isolated being a single mom in Franklin Lakes. Margaret then reveals how her marriage broke up, and how her stepchildren still don't speak to her because she left their father for another man. Dolores is moved: "Her feelings go a lot deeper than we give her credit for."
Dolores and Frank and Siggy and Michael are out for dinner, and Dolores tells Siggy about Margaret's revelations, and says they should give her a second (third? fourth?) chance. Siggy is resistant at first, but tells us that she can relate to Margaret's broken heart. "Time to move on," says Ms. "I'm not over it!"
In Puerto Rico, Teresa tries to have a heart-to-heart with Milania, who seems to be the one most upset by her grandmother's passing, during which the girl unleashes this devastating (but likely rehearsed) line: "I know how it is missing your mother. You were gone." Later, Teresa arranges a photo shoot with the girls, who are recalcitrant to say the least. She also has a talk with her father about the girls in which he counsels more discipline. (Which is exactly what got Melissa in trouble.)
The conversation, alas, ends with him in tears about his late wife and Teresa complaining about Joe's criminal behavior (although not in so many words: "I wish Joe could have been on top of it," she allows. Baby steps!). "He better be a changed person," she tells her father about Joe. "It's all right," Giacinto says. "You got me now."
Best quote: "If I gotta deal with these girls, I've gotta get a pellet." — Dolores Catania
Who do you think would prevail in a Teresa Giudice-Dolores Catania cage match? Share your thoughts on tonight's episode in the comments.
The Real Housewives of New Jersey, Wednesdays, 9/8c, Bravo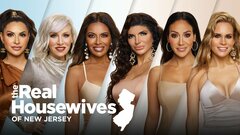 Powered by