'Real Housewives of New Jersey': Tragedy, Tears and a Triumphant Return (RECAP)
Shady Beach
Season 8 • Episode 1
It took only nine words to remind me why The Real Housewives of New Jersey needs Danielle Staub. "I love orgasms," says the RHONJ original matter-of-factly in her long-awaited return in the eighth season premiere, "so tell me all about this." Vintage Danielle—brassy, casually vulgar and perhaps the antidote to way too many seasons of rehashed feuds and rehearsed ripostes.
"This," in case you're wondering, is a sex spray prosthelytized by RHONJ newbie Margaret Josephs, the pig-tailed housewares doyenne with a pantry full of snark.  She too is a promising addition to this franchise, where the onscreen theatrics has often been overshadowed by off-screen drama that has, unfortunately, often been off-limits thanks to star Teresa Giudice's legal entanglements.
The Season 8 premiere tantalized with some under-the-surface tensions, but was a little low on sparks, in part because the franchise had to pay tribute to Gorga matriarch Antonia Gorga, who died in March at 66. The episode opens in late February, with Teresa calling her brother Joe for an update on their mother, who has been hospitalized with pneumonia for three months. We cut to a week later, when the Gorga and Giudice families are burying Antonia. Their father Giacinto is heartbroken, and there are several poignant moments of him shuffling around his house as his children are packing up years of memories.
The death of her mother is, of course, devastating to Teresa, and it also shakes her up a bit in regard to her relationship with her husband Joe, now serving a 41-month sentence in federal prison for bankruptcy fraud and conspiracy to commit wire and mail fraud—and whose laissez-faire accounting and criminally creative financial documentation also led to Teresa's year-long prison stint in 2015. Though Teresa has sloughed the blame for her incarceration in every direction except Joe—her bankruptcy attorney, the prosecutor, to name a couple—she is finally coming to terms with the predicament he put her in, and that her prison stint took away a year she could have spent with her mother.
Teresa is not quite capable of saying the words "prison" or "fraud," but she does admit to her friends if Joe had put her and their daughters first, "we wouldn't be in this predicament … I can't help but get upset." Dolores Catania: "It's about time you said it." The rest of RHONJ nation: AMEN. Dolores tells us that she had always said that Teresa would never leave Joe. "I'm going to take back the word never."
Ding-dong! Teresa gets a flower delivery, and it's from Danielle! "Remember when Mommy flipped the table?," Teresa prods her family. Gia's grunt speaks volumes. Turns out Teresa has had a change of heart where it comes to Danielle, who, you'll recall, managed to invoke the wrath of Teresa with a mere "Pay attention, puh-leese" in the first season finale. We are treated to a montage of Danielle and Teresa's greatest hits ("ENGAGED 19 TIMES???/DO NOT BRING UP MY FAMILY!!!). But all that is forgotten now. They've bonded over yoga, the memories of their late mothers, and Teresa not calling Danielle a prostitution whore on national television.
Later, Teresa's sister-in-law Melissa Gorga, some friends including Dolores and Siggy Flicker, and about three gross tons of hair extensions and false eyelashes alight at Casa Giudice. Over wine and Chinese food, Siggy suggests a getaway to help Melissa celebrate her upcoming birthday and to give Teresa a much-deserved break. They're headed to Siggy's old stomping grounds of Boca Raton, where she raised her babies and where her best friends and plastic surgeons (note the plural) still live. Siggy has also invited her pal Margaret to share some meals because she's going to be in town for business.
Margaret is a home decor magnate with a "Lilly Pulitzer on crack" aesthetic who is now branching into clothing and shoes, and who comes to us by way of one of Siggy's pals. Margaret reveals she left her husband of 17 years for her contractor Joe, now her husband. It was apparently tres scandaleux for provincial Tenafly. She works out of her home in Englewood now, and her mother, the adorably dubbed Marge Sr., is one of her employees.
Boca, baby! Siggy takes the ladies to dinner at a steakhouse, and is so obnoxiously loud that she embarrasses Teresa. Let that sink in for a moment. She embarrasses Teresa. At a restaurant. With tables. "She's got take it down a notch," Margaret says of Siggy.
At breakfast the next morning, the one and only Danielle makes her Season Eight debut. Everyone is happy to see her except Dolores: "Am I the only one who thinks she's crazy and could be a problem?" (No. The "RHONJ" producers think so too. Or at least are fervently hoping that it will be so.)
Danielle brings up a shocking crime story from earlier this year in which two bodies were found murdered and burned inside a car owned by the Kim DePaola, aka Kim D., aka the Notorious K.I.M. Kim's son had lent it to one of the victims, a friend, but for a few hours after Kim was notified that her car was a murder scene, she couldn't locate her son. (He's fine and was not involved.) Danielle feels for Kim, but at the same time, it's Kim, whom she blames for setting her up to have her hair ripped out of her head at a North Jersey country club in Season 2. Danielle neglects to mention that prior to the weave-ripping, Danielle had been chased through the country club by a maniacally screaming Teresa, and that Ashlee Holmes, erstwhile RHONJ star Jacqueline's Laurita's daughter, did said ripping. Teresa casually admits: "I was there. I got involved."
"If that's the last time you saw Kim D., God bless you," Melissa says, which leads to some frostiness with Siggy, who is apparently still friends with Kim D.
Speaking of old sins, at dinner later Melissa jokingly/not-jokingly tells the table that Teresa caused a rift between Melissa and her then-fiance Joe when she told Joe that Melissa had been dancing with another man at her bachelorette party. Teresa: "I used to be a troublemaker." The tension rears its head again after the birthday cake is served, and Teresa jokingly/not-jokingly grabs a fistful of cake and throws it at Melissa. Melissa responds in kind, and Siggy, who ordered the cake, is pissed and not quiet about it. "All right, take it (bleeping) down a notch," Margaret tells her. Siggy: "Go (bleep) yourself."
Oh, it is on.
And where does Season Eight leave the other ladies?
Siggy is an estimated 247 percent louder—my sound meter started smoking and giving off sparks during the scene at the steakhouse—and newly retrograde in her advice, at least when it comes to herself. She reveals to the ladies that her husband asked her to dial back her promotional appearances. Actually, he ordered her to, and Siggy "Know Your Own Worth/Love Who You Are" is actually considering it. The women are, if not knitting hot pink pussy hats, relatively appalled, with Margaret telling Siggy that her husband shouldn't stop her from doing what she loves. Melissa, married to Mr. Neanderthal 97,623 B.C., tells her it sounds like Michael is being "borderline controlling." Ya think?
Meanwhile, Dolores's ex-husband Frank has moved back in the house after he (at least temporarily) split from his girlfriend, and Dolores, who is dating a doctor, insists (a bit weakly to my ears) that she's not getting back together with him. But she's also concerned about her son Frankie, the man of the house, clashing with her alpha male ex. Frankie is a high school senior apparently looking to major in pectorals and spray tans in college, but whoops! Dolores gets a call from Frankie's tutor who informs her that Frankie hasn't turned in any of his college applications on time. "Did someone drop the ball?," Dolores asks her. As if she is speaking to a particularly slow child, the tutor responds: "I would say Frankie dropped the ball." The tutor instantly becomes my new favorite character.
Time to hand out this episode's awards:
Best addition to the Merriam-Webster, Giudice edition: Mimosis. mim-o-sis noun, plural. 1. Champagne and orange juice cocktails favored by pronunciation-challenged housewives from New Jersey. 2. A type of cell division that occurs during boozy brunches. [From the Greek mimos, by way of Paterson public schools.]
Biggest load of BS: Teresa trying valiantly to convince us that her stint in the pokey got her thinking about the scorned and abused (most notably by Teresa herself) Danielle, and then got her yearning for a yoga-assisted rapprochement.  "When I was away, you just starting thinking about a lot of things, and Danielle never got a fair chance."
Understatement of the night: "Jackie and I decided to dissolve our partnership," Melissa tells us about the off-season drama with her partner in her Montclair clothing boutique Envy. "We had two totally different visions." Yes, one involved a clothing store with merchandise for sale. The other involved an empty store.
Most disappointing application of a Kim D.-as-rodent metaphor: "She's a rat always looking for a piece of cheese, and sometimes the rat comes out of the sewer … and they get the piece of cheese!" And Melissa started off so promisingly.
Best euphemism for sex: "Doing my molding." Courtesy of Margaret in reference to how she met her current husband, a contractor.
Word I would be most happy to never hear again in relation to sex: Marinate. Also courtesy of Margaret.
Feud to watch: The scenes from the upcoming season are chock full of fightin' words, but I like what I'm seeing so far from the Pigtailed Wonder (Margaret, about Siggy's husband: "I looked up man in the dictionary, and I didn't see a picture of Michael Campanella.") Siggy also seemed rather off her meds this episode, so I'm giving it to Margaret and Siggy.
Most wishful thinking of the episode: "Teresa and I are in a really, really good place," Danielle tells us. "I don't know how long it's going to last. I'm hoping it's for real, and I hope it leads to an apology." Sigh. Haven't we learned by now? Teresa means never having to say you're sorry.
The housewife you are least likely to pick for a partner for Trivial Pursuit: Melissa, reacting to Siggy's claim that she is the most talented person on earth." "Has she ever heard of Michael Jackson or Madonna? Or the guy who invented the lightbulb?"
Best food moment (also worst food moment): Is chocolate chip cookie cake is the new sprinkle cookie? What is it with these women and their disparagement of perfectly delightful baked goods? Melissa's birthday ends in a food fight when Teresa and Melissa fling handfuls of the gorgeous custom-made cake Siggy ordered, and Siggy. Is. Not. Pleased. "I would have never imagined a grown woman throwing cake." (Unlike, say, tables.) "This wasn't just like a chocolate chip cookie cake. It's just very disrespectful."
Most unnecessary commentary of the episode: "We're gonna have to explain to the restaurant that we're from Jersey."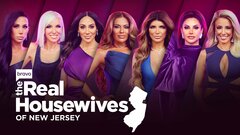 Powered by