First Look: Jodie Whittaker's 'Doctor Who' Costume and Fan Reactions
Ever since it was announced that Jodie Whittaker would play the Thirteenth Doctor in Season 11 of the iconic sci-fi series Doctor Who—the first woman to play the role—fans have been wondering what she would look like in character.
Well, start your cosplaying plans now, Whovians—we got our initial glimpse of her on Thursday, when BBC America released the first image of Whittaker in costume as The Doctor. "New season. New Doctor. New look!" the network tweeted.
Check out Whittaker's Doctor here:
As you might expect from Doctor Who's passionate fan base, there was no shortage of creative reactions to the colorful outfit, so it's a good thing that Twitter fans now have 280 characters with which to express all their feels. (And don't think that fans didn't also notice some tweaks to the TARDIS in the pic.):
— S. Boccaccio (@0pen_fire) November 9, 2017
Hmmm I like pic.twitter.com/8J8dWyEvRv

— Michael Ball (@mirrorballdc) November 9, 2017
There isn't a thing about this picture I do not love. I cannot wait for the new Doctor!

— Jordan (@LegitimateGeek) November 9, 2017
I love this so much! I want those blue pants and the boots and the blue socks and the suspenders and the BIG COAT! OH MY GOD!

— The Red Witch (@theredwitch) November 9, 2017
I don't know how I feel about the new look…I like Jodie, but they should have given her a better outfit. This is kind of childish. I like the Doctor's childish side, but I also like the Doctor's dark side. I hope they're not planning on playing her Doctor off as a goofball.

— Allison New (@AllisonWrites05) November 9, 2017
The cosplayers are shouting "We need a close up of the earring, please!"

— Sarah (@SarahThrawn) November 9, 2017
My God, I love this costume. Someone said it had a "1980s children's TV presenter" vibe and I fully agree.

— guerilla monsoon (@hotpinksheets) November 9, 2017
No Doctor ever dressed good, that's the whole point, they always had a look. 😉 And she rockin that look also. 😉

Well Done. 😀

— Steven Hume (@IronScotsman) November 9, 2017
DOES SHE HAVE POCKETS WE NEED TO KNOW

— Becki Crossley ❄️🎄✨ (@literarypanckes) November 9, 2017
WHAT IS THIS? This is how you do IT. This is how you do the Doctor. This is how you do the Tardis. COME THRU SERIES ELEVEN https://t.co/MMxhYMAMcQ

— James (@Postajam) November 9, 2017
It's like they tried to incorporate the different shades of Tardis blue into one outfit, I'm impressed #DoctorWho pic.twitter.com/mL7RO9Bx1l

— Julia (@trudetheobscure) November 9, 2017
HOLY YESSS!!!!! THE COSTUME LOOKS FREAKING AMAZING ON JODIE, AND THE NEW TARDIS!!!! OH MAN, THAT LOOKS BEAUTIFUL!!!!

AAHHHHHHH THIS IS THE BEST DAY OF MY LIFE https://t.co/atlWjVdZ92

— Liam Catterson (@LiamCatterson94) November 9, 2017
Season 11 of Doctor Who is expected in Fall 2018, a 10-week run of 50-minute episodes kicking off with a feature-length hour for the opening launch. Joining Whittaker in the cast for the new season are newcomers Bradley Walsh, Tosin Cole and Mandip Gill, with Sharon D. Clarke in a returning role.
That's a long wait, but anxious fans can get a first look at Whittaker's performance when she is introduced as the new Doctor in this year's annual Doctor Who Christmas Special, "Twice Upon a Time," which airs this Christmas Day, Dec. 25, on BBC America.
See Also
The holiday special will feature the returns of David Bradley and Pearl Mackie, and introduce Jodie Whittaker as the Thirteenth Doctor.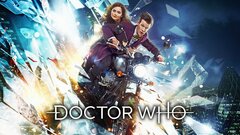 Powered by