'Real Housewives of New Jersey': The Most Misunderstood Human Alive (RECAP)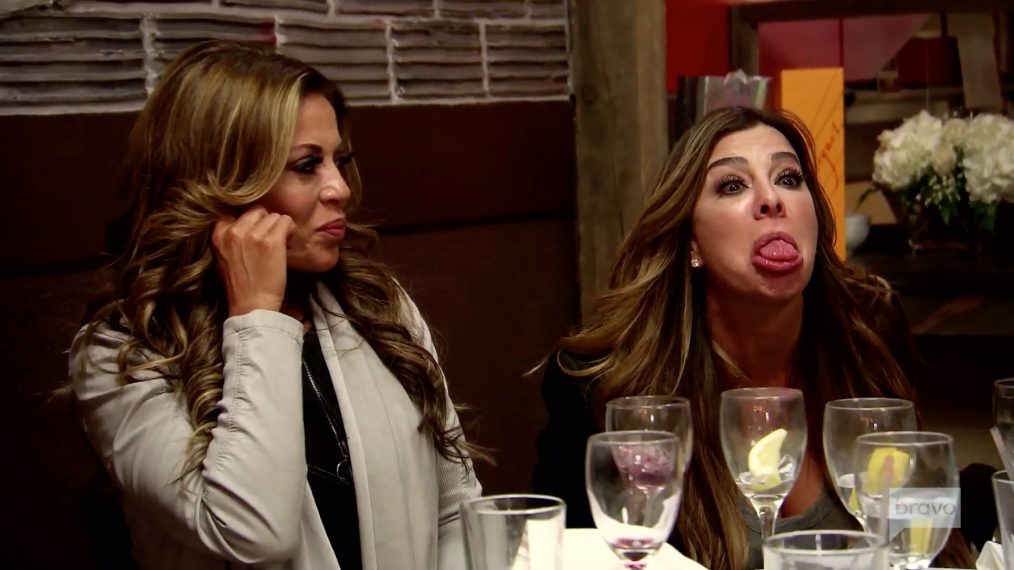 Even for a television franchise founded on steaming, fragrant and ever-spreading, well, you know, Melissa Gorga's defense of Danielle Staub on tonight's Real Housewives of New Jersey beggared belief.
We're supposed to buy that Teresa Giudice should listen to Danielle, her assault-by-furniture victim conveniently turned new bestie, instead of Dolores Catania, who stood by her through bankruptcy, foreclosure and a year-long prison stint, because, as Melissa says, "Danielle is the most misunderstood human alive." The irony is that Danielle's not-so-fresh rep is due largely in part to Teresa's instantly iconic "Prostitution whore!!!" table flip back in the first season.
This utterly manufactured storyline is matched by yet another — that of the increasingly unstable Siggy Flicker still holding a grudge against newcomer Margaret Josephs for failing to invite her and Dolores to the memorial Margaret planned for Teresa's mother in Boca. YES. WE ARE STILL TALKING ABOUT BOCA.
See Also
On tonight's RHONJ, Danielle Staub stirs the pot and incurs Dolores Catania's wrath, but we're keeping an eye on the brewing resentment between Teresa Giudice and sister-in-law Melissa Gorga.
And there's a third: Siggy's fake dithering about husband Michael's insistence that she cut back on her personal appearances, even though she wants to expand her brand. "I have to balance my professional dreams with the love and attention I want to give my husband," she tells us. I wonder if Michael has ever had to struggle to balance the two. When did RHONJ turn into a prequel to The Handmaid's Tale?
Margaret, however, still seems refreshingly real, if only because she often looks as dumbfounded by the drama as I am. Points for her cackling, "This is like high school. I love it!"
The episode opens with your standard rehashing of Danielle's claims that Dolores recently told her that Teresa only cares about money, which led to Dolores snarling, "Welcome back, scumbag" at Siggy's party. Dolores is hurt that Teresa didn't automatically believe her over Danielle, "a pathological liar."
Teresa is still valiantly clinging to the plot point that she just doesn't know who to believe. Gosh! "I don't believe Dolores would say that, but the way Danielle told me, I believe her." (You mean, with words?) Regardless, she has decided to invite everyone to a tasting party for Gorga's Homemade Pasta & Pizza, the family's new East Hanover restaurant. And then, as if this was merely a possibility instead of an absolute certainty, Teresa wonders, "What if it gets out of control? Oh my God!"
At the restaurant, tensions flare up when Melissa shows Teresa one of the black-and-white family portraits they will be using to personalize the place. Melissa's head is thrown back in laughter, and hubby Joe is covering his face with one hand, as if he can't believe something Melissa just said. Cute. But Teresa, still steaming over Melissa's parenting critique last episode, takes great offense: Why would Melissa pick a photo where you can't see Joe's face, she whines. And, oh yeah, Melissa's mouth is really big. Nice.
You probably heard Teresa's crack in this scene in the previews for Season 8: "She's only a Gorga by marriage." But it was preceded by another snippy remark that I must have misheard, and please correct me if I'm wrong, and I do hope I'm wrong: "She's only a Gorga by f*cking injection." I'm begging you, tell me I misheard that. Melissa storms out.
Another comment I wish I could unhear: Teresa, bathing suit shopping with 16-year-old daughter Gia, telling her and the rest of America: "I think you should show off your ass. You have a nice ass." The shopping gets even more fraught when Gia confronts her mother about being too soft on her sisters, echoing Melissa's assessment. And America's. "You think we're going to hate you," Gia says. Teresa: "I just want to be the best mom I could be. I hate to say no." And two scenes later, Teresa is half-heartedly battling with Milania over juice boxes. Milania wins, of course. Milania will always win.
Joe and Melissa stop by Teresa's house to celebrate the imminent opening of the restaurant, and Teresa apologizes to Melissa over the scene in the restaurant, saying she overreacted, but also admitting that she was angry at Melissa for her parenting comments. Joe actually backs up his wife, agreeing that Teresa is way too easy on her kids, and Teresa does that patented Teresa thing where she just gapes like a dying guppy.
We catch up with everyone before the tasting. Siggy is going to the event to support Melissa and Teresa and is willing to give Margaret a second chance, but she's not happy with the way Danielle treated Dolores. Dolores wants to let Teresa know that she's hurt that Teresa could entertain the idea that Dolores trash-talked her. Melissa says that Danielle seems to be very sincere, so it's hard to doubt her. And Teresa. Well. Teresa is "really confused."
Margaret and Joe B. are the first to arrive, followed by Siggy and Michael and Danielle and Marty. There's a hilarious shot of Michael and Joe B. obliviously scarfing down food in the kitchen while the ladies sharpen their claws in the dining room. That's where I would be too, out of the range of flying stemware and elbow-deep in antipasto.
Setting the scene for the inevitable catfight, Teresa wonders aloud why Dolores, who has yet to arrive, let her ex-husband Frank move back in with her, considering she's in a serious relationship with someone else. Margaret says if it works for them, who cares? Siggy is happy to see Margaret coming to Dolores' defense. That is certain to last as long as this sentence.
Danielle asks Teresa whether she believes what she said about Dolores, and Teresa admits she's torn. Siggy defends Dolores, but Margaret says Danielle "obviously" has no reason to lie. OBVIOUSLY, PEOPLE. That's when Melissa drops the "most misunderstood human alive" bomb, and Siggy's head just about turns around in its socket. Later, Siggy and Melissa are chatting at another table, and Siggy, apropos of nothing, tells Melissa she needs a sharper knife in case Margaret stabs her in the back. That is actually one of the more coherent things Siggy says this evening.
Dolores shows up, hugging everyone except Danielle, who gets a chin thrust packed with so much attitude I'm surprised Danielle doesn't fall over backwards. Dolores joins Melissa and Siggy at their table, where Melissa attempts to defend Danielle by saying that perhaps she took Dolores' comment out of context. Siggy counters with the classic "She's delusional." Siggy also regurgitates the Boca drama, saying she's still upset about Margaret organizing a memorial to Teresa's mother without alerting Siggy, who introduced her to the other housewives.
Of course Margaret, Teresa and Danielle are three feet away and can hear everything they're saying. Teresa ventures over, and as Siggy and Dolores get more louder and more obnoxious — who would have thought it possible — Danielle and Margaret join them. And in direct violation of the Tenafly Classic Diner Peace Accords, Siggy yells at Margaret, "I'M NOT OVER IT!"
See Also
In Wednesday's 'RHONJ,' Siggy Flicker and newbie Housewife Margaret Josephs have a culinarily authentic (cheese fries at the diner!) but narratively unconvincing showdown over the Boca brouhaha.
I don't even know how to recap what happens next. Siggy goes completely off her rocker, attacking Margaret's merchandise because it's made in China, and Dolores chiming in that she doesn't like it, either. Of course Dolores doesn't, Margaret says — she is Siggy's puppet, after all. And then I got a flashback to the "No puppet, no puppet, you're the puppet" presidential debate and had to hide under my bed stress-eating Chex Mix for an hour.
(By the way, Margaret hilariously defends her business plan to us: "Everything is made in China, including [Dolores'] implants and Siggy's hair extensions.")
Dolores is only getting started. When Teresa tries to defend Margaret, Dolores starts yelling at her. There is also much pointing: "I'm talking. I'm talking. Don't worry about it. You wanna ask me a question, I'm gonna answer it. Let me answer it and be quiet. I don't like how she treated my friend."
"Because she's not kissing her ass," Teresa shoots back. Dolores: "If someone I just met turned on you, I wouldn't like it." Then Siggy renews her campaign against Margaret: "You're one of the ugliest human beings in the world for making fun of me." For calling her Soggy? Seriously? Where does Harvey Weinstein fall on her continuum of human behavior?
Siggy and Dolores decide to leave, and that's when things really get weird. First Siggy yells "This is BORING!," and swings her arm at the back of Margaret's head as if to smack her, and then turns to leave. And then she sort of shimmies back to Margaret, who has still not turned around, and shakes her chest while singing annoyingly (that's what the closed captions said) something like, "Uh uh uh uh uh uh uh uh." She then heads for the door with Dolores on her heels.
And then, after taking the backseat in the drama department for four episodes, Danielle finally unleashes the snark. "Where's your honey?," she calls out to Dolores, who came to the tasting with Frank, her ex, and not her boyfriend. Dolores storms back over to Danielle, who needles her about her unconventional living arrangements. "It's none of your f*cking business, how about that," Dolores tells her, getting in her face. Teresa frog-marches Dolores out of the door. "I needed to get her out of the restaurant before it got uglier than that."
And speaking of statements that beggar belief, Joe Gorga oh-so-innocently asks in the midst of the fracas: "What's happening with you women always arguing?"
Is Danielle the most misunderstood human alive? Is Margaret the ugliest human beings in the world? Does RHONJ corner the market on overstatements? Let us know in the comments.
The Real Housewives of New Jersey, Wednesdays, 9/8c, Bravo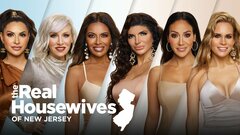 Powered by