'Search Party': A Show About How Young People Cope With Trauma
Just remember Bender. Before you dismiss TBS's new five-day bingefest Search Party as simply an homage to youthful navel-gazing and Instagram-coddled ego, consider how much The Breakfast Club, St. Elmo's Fire and Less Than Zero meant to you when you were getting the hang of growing up.
The quirky Search Party—from promising young showrunners Sarah-Violet Bliss and Charles Rogers, and veteran comedy guy Michael Showalter (Wet Hot American Summer)—features a quintet of twentysomething Big Apple pals trying to gain traction in their careers, love lives and wobbly self-perception.
At the center is restless personal assistant Dory (Alia Shawkat), whose days revolve around her drama-averse corporate beau Drew (John Reynolds), her journalist former love Julian (Brandon Micheal Hall), flamboyant self-promoter Elliott (John Early) and perky actress Portia (Meredith Hagner). When a former college classmate goes missing, each tailors the ensuing drama to meet his or her own needs, with myriad results. (TBS will air two episodes each night from Monday, November 21 through Friday, November 25.)
RELATED: Transforming TBS and TNT: Kevin Reilly on the Networks' New Strategy and Conan's Future
"People have a tendency now to co-opt other people's trauma and use it for their own identity online," Rogers says. "There's a big part of that superficialness and selfishness in society today that's a part of the satire in our show. But the more involved in the mystery the friends get, the more that affects their personal lives and their relationships to one another."
In other words, stick around beyond the pilot and watch a trove of quirky performances and addictive storylines unfold, including Ron Livingston as a sketchy P.I., Parker Posey as a new-age shop owner and Rosie Perez as a tightly wound real estate agent.
"It's about showing a snap judgment of people and then watching their history," Shawkat says. "And as you get to know more about them, there's more reason—not excuse—just more understanding of why these people are this way."
Showalter considers Search Party to be a digital-age version of The Catcher in the Rye and The Graduate, which, he says, "is a way in which young people defend themselves by not caring—essentially by acting detached from what's happening around them. That is, I think, a universal experience of being young. What I like about this show is not necessarily that we are shining a light on this generation as much as there's a universal story here."
Search Party, Series premiere, Monday, Nov. 21, 11/10c, TBS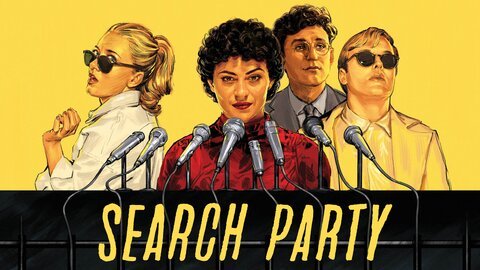 Powered by