First Look: Brandon Micheal Hall and Lea Michele in New Promo Art for ABC's 'The Mayor'
By now we're all more than familiar with how unpredictable elections can be. Turns out, you really don't need to have that much experience to be elected to office in this country!
The Mayor, ABC's new comedy from Tony Award winner Daveed Diggs (Hamilton, Unbreakable Kimmy Schmidt), mines the peculiarity of American politics for laughs—and maybe a little inspiration.
Brandon Micheal Hall stars as Courtney Rose, a struggling young rapper who runs for mayor of his California town as a publicity stunt and ends up actually winning.
Today, ABC released new key art for the show featuring Hall and Glee alum Lea Michele, who co-stars as a rival campaign manager who, along with his mother (Yvette Nicole Brown), ends up helping Courtney become a force for positive change in their hometown. Check out an exclusive look at the promotional art here:
The Mayor premieres Oct. 3 on ABC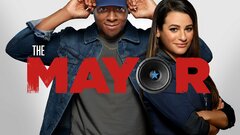 Powered by