Eileen Davidson Dishes on Her 'Funny and Tragic' Return to 'Days of Our Lives'
You sitting down? Daytime überdiva Eileen Davidson will make her much-buzzed-about return to NBC's Days of Our Lives on November 2, but she will not—as is widely assumed—be playing her long-running character, Kristen DiMera. Instead, Davidson will be seen as Kristen's bucktoothed hillbilly look-alike, Susan Banks, whom she played to uproarious success in the late 1990s. But that's not to say Kristen—that dazzlingly demented priest rapist—won't be popping up as well.
The Emmy-winning Davidson drops some juicy hints.
Word is, Susan is central to the mystery of Will (Chandler Massey) coming back from the dead. How's that even possible?
They connect the characters in a very cool and unforeseen way that's both funny and tragic. And it's very entertaining! I think I just sold this story better than anyone has ever sold a story ever. I should be a publicist. [Laughs] But in order to bring Susan back, she needed to be somewhat grounded, which isn't easy, because there's a fine line between her and reality. She's so completely out there. A lot of viewers won't know her if they weren't watching 20 years ago. [Laughs] They'll be going, "What the hell is that and how did it get on my TV screen?"
You've played five different characters on Days, including Susan's sleazy brother Thomas. Any more coming back?
This arc is mostly about Susan, but we really cram in a lot. A few other people may be making cameos. You might even see a comb-over.
You and head writer Ron Carlivati seem like a match made in Heaven—or Hell which would be even better.
Ron is terrific. He realized that I know Susan better than anybody so he was totally fantastic and supportive about me changing things, editing, doing whatever I needed to do to make the writing work for the character within this new story. I had a great experience going back. I love everybody there. I always do. I only spoke to Ron a couple of times on the phone but I find him to be a really lovely guy.
Well, that's two more times than you ever spoke to that recluse Jim Reilly when he was writing all those characters for you back in the day.
It's true. The only time I ever talked to Jim was after I left the show. And he apologized.
For what he put you through?
[Laughs] Yeah! He said, "I'm so sorry, Eileen, but once all these new characters started coming into my head I felt so inspired that I just couldn't stop!" I was so exhausted at the end of that story that I literally ran screaming from the NBC studios—all because of Jim and his crazy genius.
Okay, let's just say hypothetically that Kristen also returns to the show. She has a lot of enemies in Salem, especially after drugging and raping Father Eric and getting it on video. Is there any time for that to be brought up?
No. Not really. Does everyone still hate her? I just can't say anything else about that.
They'll always hate her!
I don't agree.
Seriously?
Seriously.
You actually think she's redeemable?
Yes.
Because?
Because after all these years in daytime drama I can rationalize anything.
Are you taking on any new characters we haven't met yet?
No. [Laughs] I feel like we're playing What's My Line? here.
Yeah, and you're winning! Enough about Days. Your storyline on The Young and the Restless, where Ashley's true parentage has finally been revealed after 30-plus years, is killer. Did you think they'd ever get around to spilling the beans?
I've been hoping for so many years that we'd get to this because it's something so rich and never tapped—and sadly not tapped before they killed off John Abbott [Jerry Douglas]. This has gone on for so long that a lot of people didn't even know it was a secret. They just assumed John knew he wasn't Ashley's dad. After a while, even I was going "Did John know?" So, it's been confusing, but I'm happy they're dealing with it now…on some level.
It does seem much less scandalous in 2017.
I had a problem with that myself, frankly. Like, who cares about this at this point in time? Aren't we past thinking of this sort of thing as a scandal? Ashley has an amazing life and career and family. But I guess it's about her having a certain image of herself, more than it is about a dark secret going public. She has always felt she was John's daughter. It's her identity. It's who she is in her heart. And now that's crashing down.
What isn't passé is that Ashley's mother Dina [Marla Adams] deserted her husband and three children to run off and have a rowdy sex life. It's radical, and hard to imagine any soap doing that story today.
Right? It's insane! [Laughs] Dina was a real slut. Who knew? And now the three children are taking care of the mother who abandoned them. There's some very real stuff to play there. We all have problems with our aging parents. Even though you love them and feel sorry for them, they still push your buttons. It's crazy. But it's just so fantastic having Marla back on the show. I love hearing her talk about being on The Secret Storm when Joan Crawford stepped in to replace her daughter Christina. Marla's, like, "Joan was drunk as a skunk! And she wouldn't allow any other actresses on the set who were attractive!" Her stories are hilarious.
Love those flashbacks with you two from 1985!
Oh my God, I can't look at them! I'm serious. I won't tune in. I can't stand how breathy my voice used to be.
It was the eighties. Everyone was breathy.
Yeah, but I also had a lisp. A breathy lisp! And it doesn't help that my husband looks at my old scenes and says, "Uh, what's with the acne?" I'm, like, "Shut up, you!" I had acne for a very short while decades ago and now here it is—back again! So, sure, it's really quite phenomenal that we can play out a story on-air now that uses flashbacks from 30 years ago. But it's also somewhat depressing. [Laughs]
Was there a downside to the time you spent on The Real Housewives of Beverly Hills? Any negative repercussions?
That's what's been so fascinating. I've had people say to me, "I'm so glad you left that show because it can do such damage! I think for sure it's going to ruin Lisa Rinna!" And I say, "Are you kidding me? Her QVC line alone is bringing in 50 zillion dollars a year!" I mean, this chick is off the charts! She just guest starred on The Middle. She's coming back to Days. She's killing it! I don't think there's any problem with anybody's reputation or career when they do Housewives. Ever. I've had no negative repercussions at all. If anything, it was a tremendous learning experience. I have no regrets.
Why did you really exit the show?
For three seasons I got to live in an alternate universe, which was interesting and bizarre and, because of my full-time job on Y&R, very stressful. There was absolutely no bad blood, but I just didn't want to spend any more time with that kind of energy in my world. They've asked me to come back a few times, but I'm not in that mind-set anymore. I left the show for the exact same reason I decided to join it in the first place: Life is short.
Days of Our Lives, Weekdays, NBC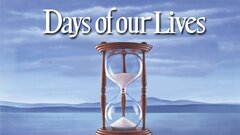 Powered by