'Blue Bloods' Star Donnie Wahlberg Was 'In Denial' After On-Screen Wife's Death
Those were real tears Donnie Wahlberg spilled on Blue Bloods' Season 8 premiere. In that shocking scene when fans learned his character's wife, Linda (Amy Carlson), had died in a helicopter crash, Wahlberg's tireless detective, Danny Reagan, broke down while talking to his shrink. "I didn't have to use eyedrops," Wahlberg recalls. "I just talked about my friend Amy being gone and let those emotions flow." His costar's departure hit Wahlberg hard. The onscreen couple had become friends over the seven seasons she played his better half. "When the therapist said Danny hadn't acknowledged that Linda was gone," Wahlberg continues, "I realized that I was in denial about Amy being gone."
Viewers can certainly relate. After the episode aired on September 29, they took to social media in anger, accusing CBS of firing Carlson. Others complained that there was no onscreen funeral to provide closure, and some even threatened to boycott the beloved drama. (Not many held to that vow. The premiere scored an audience of 10.4 million; the second episode garnered a still-healthy 9.49 million.) Wahlberg faced the wrath of fans too. "People have said to me, 'Why did you get rid of your wife?'" he says. "I'm like, 'I didn't! She left me!'"
That's one of many points Wahlberg and executive producer Kevin Wade wanted to make clear. To start, Wade insists Carlson wasn't fired. "Amy decided to move on," he says. "I was very surprised." As was Wahlberg, even though Carlson had hinted to him last spring that she might not return once her seven-year contract was up. "I thought she just needed to reenergize at the end of a long season," he says. "I told her, 'You'll be back.'"
Alas, she wasn't. According to Wade, Carlson—who hasn't publicly discussed the reasons for her exit—didn't inform producers and costars she would not be returning until after Season 7 wrapped, which is why her character's death happened offscreen. Wade also felt strongly about jumping the story ahead several months. "If we opened with a funeral, it would feel so immediate and the characters would be mourning for at least one-third of the season," he says. "That's what drove the decision to use Linda's death as a touchstone but not having it drive the tone of the series."
See Also
From an engagement to a death, the CBS series really went out with a bang!
Carlson's absence will, however, be felt deeply. The drama has explored the challenges Danny faces as a cop, and now it will look at his struggles as a single father to sons Jack and Sean (played by brothers Tony and Andrew Terraciano). "Danny starts to realize that his impetuous decision-making on the streets will have to change," Wahlberg says. "He suddenly sees how human he is and how vulnerable the boys are." That plays out on the November 10 episode when Danny wishes Linda were there to help him. Wahlberg says Danny and Sean share "an emotional scene about the loss of her as a wife and mother."
In that same hour, the widower is approached for the first time by a woman who's interested in him. "It's a really powerful moment," he says. "I think people will respond to Danny's choice."
Though Danny won't be rushing into a romantic relationship any time soon, "I can imagine a time," Wade says, "that one of the Reagans will tell him, 'Those kids need a mother figure in their life. You're going to have to get back on the horse.'"
Until he's ready to saddle up, Danny knows his family will rally around him. He finds a strong ally in his sister, Erin (Bridget Moynahan), and might even make an emotional breakthrough with his father, NYPD Commissioner Frank (Tom Selleck), "despite his old-school mentality that you don't share your emotions with other people," Wahlberg says.
Wahlberg, however, wants his fans to know that he really feels their pain. "Danny will visit Linda for some kind of ceremony this season so he can find closure," he hints. "Maybe that will be when the audience will get their closure too. We'll go through it together."
Blue Bloods, Fridays, 10/9c, CBS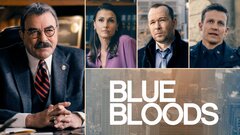 Powered by