'Blue Bloods' Shocker: Amy Carlson Leaves After Season 7
Fans of Blue Bloodswere shocked to learn in Friday's eighth season premiere that original cast member Amy Carlson would no longer be on the CBS family drama. Carlson, who played Linda Reagan, wife of Donnie Wahlberg's Danny, has exited the show after seven seasons.
Carlson released a statement via Instagram following the episode.
"My heart is full of gratitude to each of you for your generous support of me and my character for the last seven years of Blue Bloods–Linda Reagan. I have been touched by your compassion and enthusiasm," she wrote. "I loved playing Linda: wife to Danny, mother to Jack and Sean, nurse and working mom. I'm proud of my contribution to building this series. I'm so grateful to CBS and the Blue Bloods cast and crew. Mostly, I am grateful to the fans who have supported me and the show. Peace, blessings and many 'love you mores' to all of you."
Fans were relieved when Linda survived a house fire at the end of Season 7, but it turns out the nurse died on a helicopter crash while transporting a patient.
Wahlberg expressed his feeling of loss at Carlson's departure in a series of tweets. "@theamycarlson is a gift, a light and a true friend on & off screen," Wahlberg wrote in one of the tweets.
That wasn't Danny Reagan crying for losing Linda. That was @donniewahlberg crying in honor of his friend, the great @TheAmyCarlson #RIPLinda

— Donnie Wahlberg (@DonnieWahlberg) September 30, 2017
In my 35 yr acting/singing career – I've worked w some great talents. @TheAmyCarlson & @JennifersWayJE are two of the greatest! #BlueBloods!

— Donnie Wahlberg (@DonnieWahlberg) September 30, 2017
I know many #BlueBloods fans will miss Linda Reagan. None more than me. @TheAmyCarlson is a gift, a light and a true friend on & off screen.

— Donnie Wahlberg (@DonnieWahlberg) September 30, 2017
Wahlberg alluded to a major change in his character's relationship with Linda in a recent interview with TV Insider, revealing there would be "some shocking changes…that will affect everyone for years to come."
Blue Bloods, Fridays, 10/9c, CBS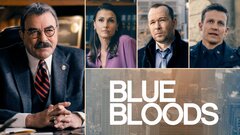 Powered by