'The Talk's Aisha Tyler and Sheryl Underwood Share Their Celeb Crushes and New Year's Resolutions
It's no secret the hosts of CBS's The Talk have different temperaments and different opinions sitting around the table. But despite their various backgrounds, the warm and engaging personalities viewers see on-screen extends off-screen as well. When the five hosts (Julie Chen, Sara Gilbert, Sharon Osbourne, Aisha Tyler and Sheryl Underwood) recently flew from their usual Los Angeles set to film in New York City, we managed to catch up with the thought-provoking Aisha (who you might also recognize from Criminal Minds and Archer) and the hilarious stand-up comedian Sheryl, to talk about their favorite parts of being hosts, the shows they never fail to watch and the celeb men they love.
What has been your favorite part of hosting The Talk?
Sheryl: The men. [Laughs] The men! Meeting really, really famous people that you never think you're ever going to meet.
Aisha: We've had some impressive and extraordinary guests. But the thing I like the best is sitting at the table, talking with the other ladies. That's the highlight for me. I think the thing that resonates most for us is being together at that table, and I know that's what viewers connects with the most, that's the part they love.
What do you think sets The Talk apart from other daytime talk shows? What has been the key to success?
Sheryl: I would say the organic honesty and integrity that we have. When one of us genuinely makes the other person laugh, it's uncontrollable. Or, we have very deep, poignant thoughts. And I like the fact that we can make very deep statements without polarizing the audience.
Aisha: Part of it is luck. We just hit a great chemical mix. A lot of shows strive for that, but you can't engineer it; it just happens magically. It's a kind show with a kind culture; we all respect each other. When we're all at that table, no one is trying to win. A win for one of us is a win for the whole team, so no one is trying to beat anyone. Even if we don't agree, it doesn't become combative or nasty. What you see on TV is what you see off TV, just without the curse words. We don't change who we are or what our dynamic is to go out there. We stay away from politics in general because that can be alienating, but it doesn't mean the show isn't personal or urgent or meaningful. I think the reason why people connect is, we try to give as much of ourselves as we can.
RELATED: Is It Time to End The View?
What's the most difficult thing about expressing your personal opinions around controversial topics?
Sheryl: One of the blessings of being on a show like this is that our opinions fit in our answers in a way that the audience can go, 'Oh yeah, I thought I agreed with…but now I agree with…' We can still have bona fide opinions that don't destroy relationships and drag the audience where they don't want to go. We're not saying things just for saying it. It is what we feel and what we believe.
Any backstage rituals that you and the other hosts always do?
Sheryl: We take pictures and we sit in show order. We're so comfortable with each other, it's not a rigid ritualistic thing. We can just sometimes finish each others' thoughts and sentences. It's like being married.
Aisha: Before the show, we always have this little cheer. Our executive producer John Redmann writes it, and it's typically unsafe for broadcast. But it's fun and that's always a bonding moment for everybody.
Do you have a favorite behind-the-scene moment or story?
Aisha: A few years ago in New Orleans, we were at dinner at Emeril Lagasse's Delmonico [restaurant], and we all got very drunk and Sharon flashed her boobs at a restaurant full of patrons. First she tried to pull up Sara's shirt and when Sara wouldn't comply, she pulled up her own!
Besides the #EverybodyTalks hashtag, describe The Talk in 140 characters or hashtags.
Sheryl: #TalkTastic. Everything would have "talk" in it so then we can start trending!
Aisha: Five words for the five ladies. Thoughtful. Intimate. Hilarious. Personal. Scandalous.
Do you have any 2016 resolutions for yourself or as a host?
Sheryl: The same resolution I have every day: lose some weight. I keep gaining and losing the same 15 lbs! But you can't have too much more fun. What job do you get to wear great fashion, you get to gossip and talk with your friends every day, and you meet fascinating people? We want 2016 to be as much fun as 2015, to go out with a bang.
Aisha: Try to get more sleep. That's my resolution every year. My main goal every day is to just carve out some time to just be at rest. I'm a clinical workaholic!
What TV shows are you binge-watching?
Sheryl: I don't binge watch too much. I try to stay on stuff. Blue Bloods has become one of my favorites. I love what they're doing there, and I love the family. The Good Wife. The Middle. The Goldbergs. black-ish. Empire.
Aisha: I only watch about an hour of TV a day when I work out, which is The Affair. I love it. I'm just shrieking at it all the time. And love the Rashoman storytelling of different perspectives. I love Game of Thrones. How to Get Away With Murder.
Who's your celebrity crush?
Sheryl: John Stamos. Definitely George Lopez. And that [NFL player Rob] Gronkowski boy is handsome!
Aisha: Channing Tatum. Everybody knows I love Channing Tatum!
The Talk airs weekdays at 2/1c on CBS.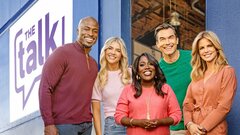 Powered by