Name Your Baby Sterling Archer? No Way, Says the 'Archer' Cast (VIDEO)
https://player.waywire.com/?id=XG65HN3RDVHP3B8R
True to their animated alter egos and the show, the cast of Archer is snarky and sarcastic in real life when they meet in person.
Seasoned comic pros Judy Greer, Chris Parnell, Amber Nash, Lucky Yates, Jessica Walter and Aisha Tyler dropped by the TV Guide Magazine/TV Insider yacht at Comic-Con to reveal their wish list for the ultimate crossovers (Ghost Hunters, Hoarders) and their (not-so-secret) celeb crushes. "Ryan Reynolds and Channing Tatum and Taye Diggs and Charlize Theron and Lenny Kravitz—and push them all together to make a sundae and smush me in the middle," mused Tyler dreamily.
Watch the funny video above, as Comic-Con memories about a fan's confession to name her baby Sterling Archer evolve into jokes and jests about (what else?) the male anatomy.
RELATED: More Comic-Con Features | Video chats with the casts of Marvel's Agents of S.H.I.E.L.D., The Shannara Chronicles, Game of Thrones, and more.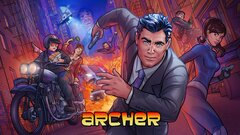 Archer
where to stream
Powered by