What's Worth Watching: 'The Librarians' and 'Agent X' on TNT for Sunday, December 27
The Librarians, "… And the Final Curtain" (Sunday, Dec. 27, 8/7c, TNT)
Do not be confused by the title of this whimsical fantasy-adventure series' season finale. The Librarians has been picked up for a third season, but not before Flynn (Noah Wyle) and Baird (Rebecca Romijn) travel back in time to 1611, in hopes of putting a damper on Prospero's latest magic scheme. To do so, they'll have to work with their teammates in the present, if they can figure out how to bridge the centuries.
On the other hand, it is the early end of the road for TNT's Agent X, which goes out with back-to-back episodes (9/8c) including a hostage crisis in the Paris Opera house, where John (Jeff Hephner) must rescue Natalie (Sharon Stone) and Eckhart (John Shea). We assume he's successful, but this will be his last mission.
Otherwise, more than usual, Sunday night belongs to football, with NBC showing the Giants-vs-Vikings match-up (8:20/7:20c).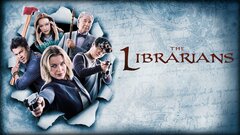 Powered by