'Berlin Station' EP Teases 'Raw Tragedy' in BB Yates' Past
Ever since CIA agent BB Yates (Ashley Judd) assumed the top spot at the titular German outpost in Berlin Station's Season 2 premiere, the tough-as-nails boss has largely remained a mystery. That changes with tonight's flashback-heavy episode.
"We take a look under the hood and shine some light on where the BB of today—a maverick who runs off-the-book espionage missions—comes from," executive producer Bradford Winter teases. "Who is she behind this reputation, behind this mystique?" Be warned: You may want to have some tissues handy. "BB's past involves a very raw tragedy that still has a grip on her," Winter reveals. "It's not a dominating factor in her life, but it gets triggered by things she encounters in the present."
See Also
Judd and Palmer join the spy thriller in its sophomore season.
She's not the only one with baggage. Her right hand, the devoted Robert Kirsch (Leland Orser), faces his own complications now that his estranged 13-year-old son, Noah (Brandon Spink), has moved in to attend a nearby school. "As much as this is something Robert had hoped for," Winter says, "it also carries a big risk." Indeed, Dad struggles to keep his spy job a secret from the curious Noah, who has peppered his pop with questions since showing up. "He's like, 'Who are you? What do you do?'" Orser says. That intriguing storyline adds another layer to the series. Says Winter, "It shows one of the many burdens the job carries on a personal front." It seems parenting a teen requires its own kind of tradecraft.
Berlin Station, Sunday, Oct. 29, 9/8c, Epix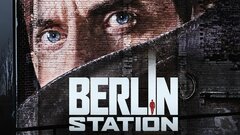 Powered by