Is 'Housewives' Star NeNe Leakes in Hot Water With Bravo Producers?
The famously brash NeNe Leakes is taking back her words. Over the weekend, The Real Housewives of Atlanta star performed a standup comedy routine in Oakland, Calif., and when an audience member heckled her, she snapped back with an inappropriate joke.
Leakes told the woman that she hopes her Uber driver rapes her on the way home. Needless to say, the E! Fashion Police panelist got some serious heat on social media for the disturbing comment.
The reality TV star took to Instagram to offer an apology. She wrote, "I truly regret and apologize for what I said from the stage in Oakland over the weekend. Sometimes words can cut deep and hurt when you have no intentions of them doing so."
Watch NeNe's stand up performance here:
The Real Housewives of Atlanta, Season 10, Sunday, November 5, 8/7c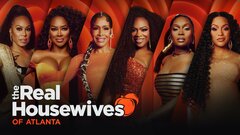 Powered by